Over the next few weeks we're going to spend some time reviewing the entire 2012 season, which featured another division title and unfortunately another disappointing playoff exit.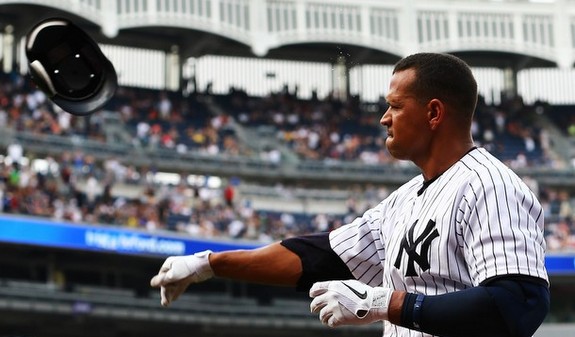 There is nothing in baseball quite like the optimism of Spring Training. Everyone has a clean slate, every young player is poised to break out, and every old and declining player is poised for a rebound. Alex Rodriguez has been that old and declining player poised for a rebound for three years running now, as the usual stories of him being fully healthy and in great shape and blah blah blah yadda yadda yadda ran rampant when camp opened in February.
Fast forward to October, and it was the same old story for A-Rod. His performance continued to slide and he missed considerable time with injury. He sparked some minor controversy along the way and like just about all of teammates, he didn't hit in the postseason. Because he's A-Rod, he drew most of the ire and his benching made national headlines. Talks of a possible offseason trade — with the Yankees eating most of the $114M left on his contract — soon surfaced. In other words, it was a typically messy year for the club and their third baseman.
You know what the weirdest thing is? It's that A-Rod was actually productive this season. No, not by the lofty standards he established earlier in his Hall of Fame career, but compared to his peers. Alex hit .272/.353/.430 overall, a 114 wRC+ that ranked eighth among all third baseman who qualified for the batting title. When Felix Hernandez broke a bone in his hand with an errant pitch on July 24th, A-Rod owned a .276/.358/.449 batting line. Is that the monster hitter he was in his prime? No, of course not. But it was certainly above average and damn good production for a 36-year-old.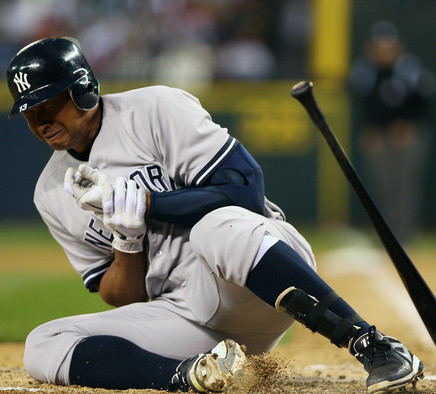 That broken bone was essentially the end of his season as an effective hitter. Alex didn't return to the team until September 3rd and even then he only had a handful of minor league rehab games to his credit. He went 12-for-43 (.279) with three homers in his first eleven games back but quickly faded, going just 17-for-68 (.250) with one extra-base hit (a double) in the team's final 17 games. His postseason featured a 3-for-25 showing, including an 0-for-18 mark with a dozen strikeouts against right-handers. Joe Girardi lifted him for pinch-hitters and flat out benched him at times as well. To their credit, both Girardi and A-Rod said all the right things and didn't allow the situation to spiral out of control.
All told, Alex set new single-season career-worsts in strikeout rate (21.9%), extra-base hits (36), ISO (.158), SLG (.430), OPS+ (112). wOBA (.342), wRC+ (114), fWAR( 2.2), and bWAR (2.0). That doesn't count his partial seasons in 1994 (17 games) and 1995 (48 games), just to be clear. He had stretches of 16 straight games without an extra-base hit (longest of his career), 17 straight games without a homer (third longest), 11 straight games without an RBI (second longest), and 13 straight games without a walk (second longest).
The Yankees like to use the DH spot to rest their older regulars — Girardi calls them half-days off — and Alex certainly saw plenty of time there. He led the team with 38 starts at DH, 13 more than anyone else. His previous career high was a dozen DH starts in 2010, and believe it or not he only had 50 career starts at DH coming into 2012. A-Rod's defense at the hot corner actually wasn't bad at all this year, but the Yankees did go to great lengths to keep him (and his bat) physically fresh and didn't get much of a reward for their effort.
The contract is what it is at this point. There's no going back in time to change it and there's not much sense in holding it against Alex. The Yankees made their bed with the contract and are going to end up paying the vast majority of it either way, whether they keep him or trade him. The best case scenario for A-Rod these days is that he continues to be an above-average hitting third baseman whenever he actually is on the field, which these days is something like 100-125 games. Expecting more at this point is foolish. Hope that A-Rod can rebound and become an offensive force has morphed into hope that he can merely avoid falling off the cliff further the next few years.