I think it's fair to say that the most positive development of the 2011 season was Ivan Nova's emergence as a legitimate MLB-caliber starter. The Yankees have had trouble developing starters in recent years and they needed a young, cheap arm to plug into the rotation, and Nova stepped forward to be that guy. He excelled in the second half and pitched well enough overall (3.70 ERA And 4.01 FIP in 165.1 innings) that expectations were fairly high coming into 2012. We wanted to see him take another step forward.
Instead, the 25-year-old Nova took a huge step backwards. It all started in Spring Training too, as Ivan quietly had a miserable showing in camp while everyone was focused on Michael Pineda's missing velocity. He allowed 21 runs and 34 baserunners in 22.1 Grapefruit League innings, a precursor of what was to come in the regular season. Nova opened the year with a solid start against the Orioles (two runs in seven innings) but struggled to keep the runs off the board after that. He pitched to a 5.60 ERA (4.90 FIP) through the end of May, allowing at least five runs in half of his first ten starts.
The month of June was much more kind to Nova, and in fact it was arguably his best month as a big leaguer. Four of his five June starts featured at least seven innings and no more than one run, including outings against the Rays, Braves, and Nationals. He closed out the first half with two nice starts, including a six-inning, two-run, ten-strikeout performance in Fenway Park immediately before the All-Star break. Nova carried a 3.92 ERA (4.19 FIP) into the break and was trending in the right direction.
That was pretty much the last time Nova was a reliable starter for the Yankees. He allowed six runs in six innings against the Angels in his first second half start, and ran off a seven-start stretch in which he allowed at six runs four times. After the White Sox tagged him for six runs in six innings on August 21st, the Yankees placed Nova on the DL after the right-hander felt a tug in his right shoulder. He was eventually diagnosed with rotator cuff inflammation that kept him on the shelf for three weeks.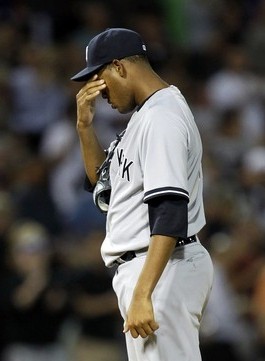 Shoulder injuries are never a good thing, but since Nova's was minor I had some hope that it would explain his struggles. That appeared to be the case in his first start back, and he held the Rays to two runs in six innings with eight strikeouts on September 15th. It didn't last though. Nova failed to complete three innings next time out and didn't make it out of the fifth the start after that, when it was obvious Joe Girardi had a short hook given the division race. Rather than start Game 161 against the Red Sox, the Yankees instead gave the ball to David Phelps in what was then the most important game of the season.
One year after being the number two starter behind CC Sabathia in the playoffs, the Yankees didn't even bother to carry Nova on either their ALDS or ALCS roster in 2012. He pitched to a 5.02 ERA (4.60 FIP) overall, allowing the most extra-base hits (87), the second most doubles (52), and 12th most homers (28) in all of baseball. When he made a mistake, he paid dearly. Opponents hit .288/.349/.511 off Nova this season, so he basically turned everyone into 2012 Albert Pujols (.285/.343/.516). Yikes. I know Pujols is declining, but that doesn't exactly make it okay.
The story on Nova coming up through the minors was that he had pretty good stuff, but he lacked command and didn't miss as many bats as expected because his delivery lacked deception. That sounds an awful lot like the guy he was in 2012, the guy who never seemed to get the hitter to foul off a mistake pitch off or have the ball hit right at some one. Opponents teed off against him whenever he missed a spot, driving the ball to (or over) the wall for big power production. He didn't just lead the league with 87 extra-base hits allowed, he did it while only throwing 170.1 innings. Josh Beckett had a poor year by all accounts, and he only allowed 58 extra-base hits in those same 170.1 innings.
A year ago, it was easy to consider Nova a major part of the Yankees moving forward. He was their young and cheap starting pitcher who was exceeding expectations and was on his way to becoming a rotation mainstay. Rather than continue on that path this year, he took a huge step back and became a giant question mark. Maybe the shoulder injury was more serious than the team let on and a winter of rest will get him back to normal. Maybe it was just a sophomore slump. Whatever it was, the Yankees have to hope that Ivan's disastrous second half is not an indication of his true talent level.