Over the next few weeks we're going to spend some time reviewing the entire 2012 season, which featured another division title and unfortunately another disappointing playoff exit.
For the last 15 years, the Yankees have always had one indisputable advantage over their opponent regardless of who they were playing. When push came to shove in the late innings, Mariano Rivera was always there to march out of the bullpen and restore order with his humble but brutal effectiveness. On May 3rd of this year, the Yankees lost that advantage.
A few hours before the Yankees were scheduled to play the series opener of a four-game set against the Royals in Kansas City, the team's 25th game of the season, Rivera took an awkward step shagging fly balls during batting practice and crumbled to the ground on the center field warning track. He was carted off the field and taken for tests while his teammates went on to lose the game, and afterwards Joe Girardi shared the grim news.
"It appears that he has a torn ACL," said the skipper. "He will obviously go back to New York and be examined by our guys."
Rivera did go back to New York and he was examined by the Yankees' doctors, but the diagnosis did not change. He had torn a ligament in his right knee and would require surgery that would all but certainly end his season. If there was any good to come out of the incident, it's that a pre-surgery exam discovered a blood clot in his right calf. After a round of blood thinners and treatment, Rivera finally had surgery to repair the knee on June 12th, nearly six full weeks after the initial injury.
Prior to the injury, Mo had been pitching like his usual self. He actually blew a save on Opening Day, allowing two runs on three hits and two walks (one intentional) while recording just one out in the walk-off loss to the Rays. The next four weeks were vintage, flawless Rivera. He struck out seven and walked zero in eight scoreless innings across eight appearances, allowing just two singles and a double while going five-for-five in save chances. Rivera made his final appearance of the season on April 30th, saving a 2-1 win over the Orioles. It was the team's 22nd game of the year.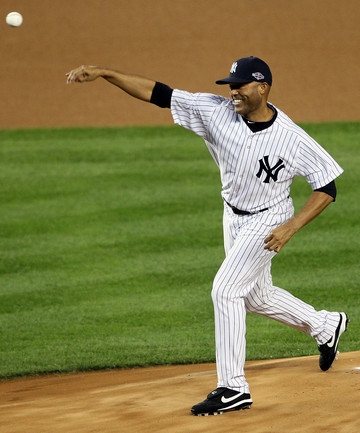 By all accounts, Mariano has recovered well from the surgery but not well enough to rejoin the team for the stretch drive, which Brian Cashman insisted would not happen the entire time. Rivera threw off flat ground in the Yankee Stadium outfield in August, which created quite a stir. He didn't start jogging as part of his rehab until just a few weeks ago. Surgery to repair a torn ACL typically requires a six-month recovery period, and there was no bending of the rules for Mo.
Rivera told reporters that he was unclear about his future a few hours after the injury — "At this point, I don't know. I'll have to face this first" — but the very next day he stood at his locker and declared that he would return to the team in 2013. "I am coming back," he said. "Write it down in big letters … I'm not going out like this." It was a whirlwind 24 hours for fans, who were worried that they had already seen the final pitch of his career.
The Yankees survived the season without their long-time closer and can now look forward to having him back next season, but now more than ever there are questions surrounding Mariano. He'll turn 43 years old next month and it's unclear if and how the injury and long layoff will affect him going forward. Rivera has never once been a problem or any kind of significant concern for the Yankees, but there are reasons to be skeptical about his ability to be himself moving forward. After all the great things he's accomplished in pinstripes, it's hard to believe Mo landed in the What Went Wrong category this year.