The Yankees are really trying to disprove this whole "pitching win championships" thing. They got another fantastic performance from the pitching staff in Game Three, but yet again the offense didn't muster much of anything until it was too little, too late. The Yankees are down three games to none in the best-of-seven ALCS and are just one more loss from the end of their season.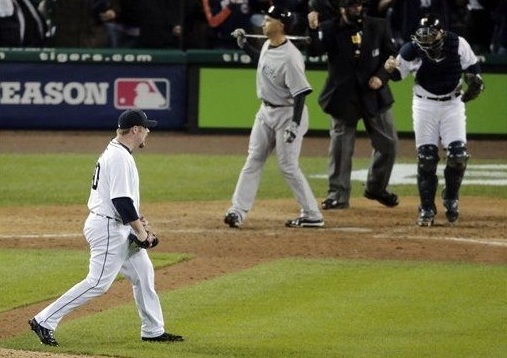 Ninth Inning Rally
Justin Verlander threw 132 pitches in Game Three and I think only the final 17 were stressful. He held the Yankees to two base-runners — two ground ball singles by Ichiro Suzuki — in the first eight innings and was more efficient than overpowering. Verlander went to eight three-ball counts (28 total batters faced), which is an awful lot, but he also didn't walk anyone. He struck out just three, only got eight ground balls (22 ball-in-play outs), and I counted just two tough defensive plays by Detroit. Very easy outing for Verlander, at least until the ninth inning.
With the bullpen a mess, manager Jim Leyland stuck with his ace right-hander for the final three outs even though his pitch count was over 110. Eduardo Nunez led the inning off and worked a real hard at-bat, fouling off six pitches before hitting a solo homer to left on the ninth pitch of the encounter (a hanging curveball). It was, by far, the team's hardest hit ball of the night. In fact, you can argue that their second hardest hit ball was a foul ball down the left field line earlier in the at-bat. Brett Gardner followed Nunez by fouling off four pitches as part of an eight-pitch at-bat before grounding out. That ended the night for Verlander.
Leyland went to former Yankee Phil Coke against various left-handers, and he surrendered two two-out singles (Mark Teixeira and Robinson Cano) to put the tying run in scoring position and bring Raul Ibanez to the plate. Joe Girardi's options at this point were Ibanez against Coke or either Nick Swisher or Alex Rodriguez against Joaquin Benoit, and the skipper stuck with Ibanez. I would have done the same thing despite his general inability to hit southpaws just because he's been out of this world clutch these last few weeks. Raul worked the count full and fouled off the sixth pitch of the at-bat before swinging over a slider for strike three and the 27th out. Coke deserves some credit, it was a great slider.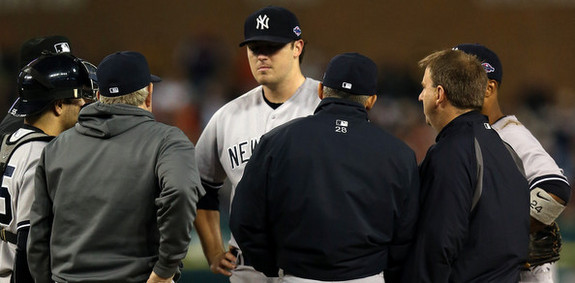 Back Breaker
Assuming the Yankees do not make a historic comeback, Phil Hughes will end his season at 201 total innings and with a stiff back. He exited Game Three after three innings and 61 pitches, but not before Delmon Young hit a hanging two-strike curveball out of the park to left field for a solo homer. He's been killing the Yankees in the postseason for two years now, no reason to expect it to stop anytime soon.
Anyway, Hughes walked three while striking out just one in those three innings, pitching out of jams seemingly all night. The pitching line — 3 IP, 3 H, 1 R, 1 ER, 3 BB, 1 K — looks a little better than he actually pitched, and it could have easily been four or five runs had the Tigers picked up some timely hits. Joe Girardi said after the game that they'll re-evaluate Hughes tomorrow before deciding whether or not to take him off the ALCS roster, which would automatically disqualify him from the World Series roster should the Yankees actually make that historic comeback. Not a great night for Phil, but he did battle and the effort is always appreciated.
Effective Relief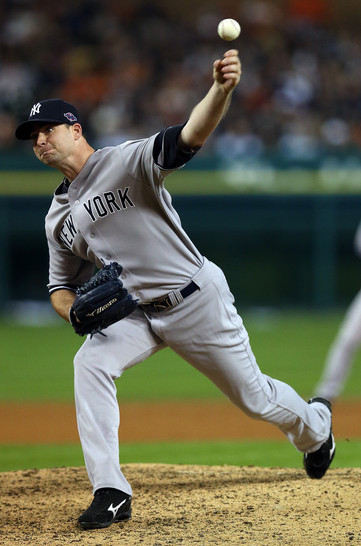 It's a good thing Monday was an off-day, because Girardi had to go deep into his bullpen following the short start by Hughes. The first guy out of the bullpen was David Phelps — he inherited an 0-2 count on Jhonny Peralta — who completed the fourth inning before allowing an unearned run in the fifth. Eric Chavez booted a hard-hit ground ball before Miguel Cabrera clubbed a double into the right-center field gap, accounting for the Tigers' second and eventual game-winning run. I was a bit surprised Girardi didn't go to Derek Lowe in that spot, but I guess he didn't want the ground ball guy in there while Nunez was playing short.
Clay Rapada replaced Phelps and retired the two left-handed hitters he faced with an intentional walk sandwiched in. Cody Eppley took over, finished up the fifth, then put two men on-base with one out in the sixth. Boone Logan replaced him and allowed a single to pinch-hitter and the right-handed Avisail Garcia — Garcia is now 3-for-3 off Logan in the series — before escaping the bases loaded jam with a 5-4-3 double play from Cabrera. I have to admit that I assumed the worst when I saw Logan was going to face Miggy with the bases juiced, but he got the ground ball and Chavez started the twin-killing with a nifty backhand pick.
Boone remained in the game to throw a perfect seventh as well as retire the first two men in the eighth, his longest outing (2.1 innings) since throwing 2.2 innings against the Phillies back in June 2010. Joba Chamberlain stepped in to wrap up the inning, so all told six pitchers allowed just two runs (one earned) in eight innings on seven hits and five walks (one intentional). They only struck out three, but the pitching staff definitely gave the offense a chance to get back into the game. The Yankees have gotten a 2.25 ERA out of pitching staff and only have three wins in eight playoff games to show for it. Gross.

Leftovers
Cano's ninth inning opposite field single ended an ugly 0-for-29 stretch that was the longest single-season hitless streak in playoff history. Ichiro had the two ground ball singles but didn't steal second either time, which was quite annoying. I thought he had a chance for a Johnny Damon-esque double steal in the seventh since the Tigers were playing the big shift on Teixeira. The one thing Verlander will let you do is steal a base, and the Yankees didn't take advantage of it.
The Bombers sent 32 hitters to the plate and I counted just seven "good at-bats" (by my completely arbitrary definition) — Ibanez in the second (eight pitches), Gardner in fourth (nine pitches), Ibanez in the seventh (seven pitches), Nunez in the ninth (nine pitches), Gardner in the ninth (eight pitches), Teixeira in the ninth (seven pitches), and Ibanez in the ninth (seven pitches). Seven "good out-bats" out of 32 total plate appearances isn't good enough, especially when three came from the same guy.
Nunez's ninth inning homer kept the Yankees from getting shut out in back-to-back playoff games for the first time in their history, so I guess that's neat. It was also the first ninth inning homer Verlander has surrendered in his entire career, believe it or not. Nunez is the first non-Derek Jeter shortstop to hit a postseason homer for the team since Jim Mason in Game Three of the 1976 World Series. The Yankees only had five hits and zero walks in the game and have scored 12 of their 21 postseason runs in the ninth inning or later. That's just too many. They have to start scoring earlier in the game.
It was a really rough night for Russell Martin, who allowed two stolen bases (in two attempts) and a passed ball. He also hurt his right thumb on a jam-shot ground ball against Verlander in the ninth, but said after the game that he's fine and will play tomorrow. It's worth noting that Nick Swisher was on deck to pinch-hit for Martin when Ibanez struck out to end the game. Not sure if that was just a matchup thing or a sign that Russ' hand wasn't good enough to hit.
The Yankees did get a little luck in that sixth inning when Omar Infante stopped at third on Garcia's single off Logan. He would have scored easily — replays showed that Curtis Granderson had not even picked up the ball by the time Infante reached third base — and given the Tigers a three-run lead. The Cabrera double play following and that was that. Nunez also deserves some credit for a nice diving stop in the fifth, keeping the ball on the infield to save a run.
Sam Holbrook's strike zone was just ridiculous; Verlander was getting a ton of calls off the plate to lefties. That's not why the Yankees lost, but it certainly didn't help. Here's the PitchFX plot so you can see for yourself.
Box Score & WPA Graph
MLB.com has the box score and video highlights. The Yankees have not been swept in any playoff series since the Royals got them in the 1980 ALCS, which happened before I was born. Crazy. The Yankees also had four winning streaks of at least four games this season, which is what they'll need to do to advance to the next round. For now, one game at a time.

Source: FanGraphs
Up Next
The season is in the hands of CC Sabathia, who will start Game Four on Wednesday night against Max Scherzer. Hopefully the ninth inning was an indication that the offense is starting to awake. That would be nice. That game starts at 8pm ET, and check out RAB Tickets if you want to score some last minute deals to attend.