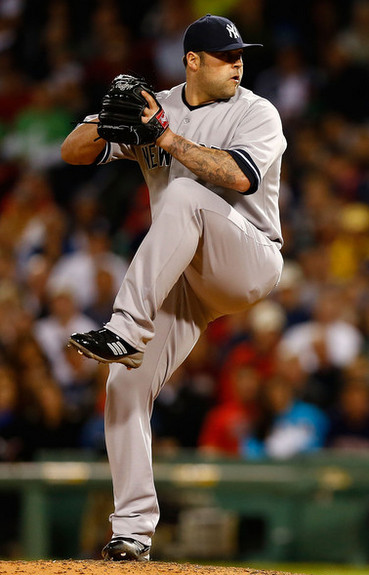 Despite losing Mariano Rivera to a season-ending injury in early-May, the Yankees still got a solid 3.43 ERA (3.62 FIP) out of their bullpen this season. David Robertson and Rafael Soriano did most of the heavy lifting while lefties Boone Logan and Clay Rapada were solid overall. Right-handers Cory Wade, Joba Chamberlain, Derek Lowe, Cody Eppley all had their moments. Ten different players made at least ten relief appearances for New York in 2012, and one of them was not Rivera (nine games).
Mo is due to return next season — he is still unsigned, however — and he'll replace the departed Soriano. The rest of the bullpen falls into place behind him with Robertson in the eighth inning, Joba in the middle innings, and the two lefties doing the matchup thing. That's five of the seven bullpen spots already accounted for, and the Yankees will have David Aardsma available on Opening Day as well. The former Mariners closer is coming off Tommy John (and hip) surgery and adds some dirt cheap ($500k) bullpen depth. So that's already six of seven spots theoretically accounted for.
That final spot would presumably go to a long man, be it David Phelps or Adam Warren or some free agent. Joakim Soria has made it no secret that he would like to pitch in New York next season, and frankly I don't know anyone who wouldn't love to see the 28-year-old former Royals closer with the Yankees on an incentive-laden one-year contract. The only real issue with adding him is that it would leave the Yankees without a true long man, unless they (gasp!) stretched Joba out so he could go multiple innings. That would be pretty awesome actually, but let's assume that's not an option.
The Yankees could, in theory, trade a reliever so they could sign Soria and still carry a long man. Carrying two left-handed relievers is a luxury but not a necessity, and there is definitely some merit to the idea of trading Logan as he comes off a career-high workload (80 appearances and 55.1 innings) and is one year away from free agency. Rapada has been better against lefties both this year and over the last few years anyway, though Logan can at least fake it against righties in an emergency. There's always the option of trading Joba, who is also a year away from free agency. I'd rather keep him and deal a lefty, but that's just me.
Aardsma, Logan, and Rapada can not be sent to the minor leagues next season without first clearing waivers, and that definitely won't happen. Some team would grab 'em. Robertson's definitely not going to Triple-A and I suppose there's a chance Joba could go down, but it would surprise me if the team made the move. Eppley figures to be the up-and-down guy, and it would behoove the Yankees to add another arm or two on minor league contracts if they don't feel Chase Whitley or Mark Montgomery are ready. Even if they are, adding the extra depth is never a bad thing. Remember, the team's projected primary right-handers for 2013 (Rivera, Robertson, Joba, Aardsma) all spent time on the DL this season.
I'm not quite sure where I'm going with this, I just kinda started thinking out loud about the bullpen and which spots were already accounted for. Ideally, I would like to see the Yankees trade one of their lefties — Josh Spence, Juan Cedeno, and possibly even Cesar Cabral serve as left-handed depth in Triple-A — add Soria, and carry a true long man who would allow Joba to remain a one-inning setup-ish man. Neither Logan nor Rapada will fetch much of anything in a trade, but maybe they serve as a second or third piece in a package. With Rivera, Aardsma, and potentially Soria coming off injury and expected to be handled carefully, carrying two LOOGYs might be a little inflexible.