Got five questions for you this week. Make sure you use the Submit A Tip box in the sidebar to send us anything at any time.

Mark asks: If the Tigers end up with Torii Hunter, this probably means the end of Brennan Boesch's time in Detroit. Any sense taking a flier on him?
Obviously this was sent in before the Tigers signed Hunter. Boesch, 27, hit .283/.341/.458 (117 wRC+) with 16 homers in 472 plate appearances last year before thumb surgery ended his season. I picked him as a breakout candidate this year — manager Jim Leyland said he was going to hit second between Austin Jackson and Miguel Cabrera, and while lineup protection doesn't exist to the extend usually portrayed, I do believe it's a factor in the case of elite hitters like Miggy — and he rewarded me by hitting .240/.286/.372 (77 wRC+) with 12 homers in 503 plate appearances. I sorta hate him for that.
With five outfielders now on the roster — Austin Jackson, Andy Dirks, Quintin Berry, Avisail Garcia, and Hunter — there's talk that the Tigers may non-tender Boesch this winter rather than pay him a projected $2.1M salary next season. I believe he has a minor league option left, so they could just send him down and make him a well-paid Triple-A insurance plan. I do think the Yankees should take a look if Boesch does get non-tendered, especially if they get him on a minor league deal and can stash him in Triple-A for a while. With Melky Mesa, Zoilo Almonte, and Chris Dickerson still around though, I'm not sure they could let more of these fringy outfield types chew up 40-man spots.
@aradmarkowitz asks: What players in baseball right now, would you take a on a 10/200 contract right now? I say Mike Trout, Bryce Harper, Stephen Strasburg and Clayton Kershaw.
Those four are the obvious candidates, though Strasburg wouldn't be a slam dunk for me given his injury history. It's not just the Tommy John surgery, he also spent time on the DL with shoulder inflammation in 2010 and had a knee problem way back in college. I'd take the plunge given his age (24), but I feel more comfortable giving it Kershaw. I think the only other guy I'd consider signing for ten years and $200M right now is Buster Posey because he's still so young (25) and athletic enough to play another position if needed. Plus, you know, he's awesome. Andrew McCutchen is in this discussion as well, maybe even Giancarlo Stanton.
Drew asks: Do you think that Bryce Harper deserved the ROY? Seems like he was rewarded based on the hype surrounding him, and not on his actual numbers. Frazier had better numbers and he finished 3rd!
Harper: .270/.340/.477 (122 wRC+) with 22 homers and 18 steals in 597 PA
Frazier: .273/.331/.498 (121 wRC+) with 19 homers and three steals in 465 PA
Frazier didn't have better numbers, if anything they were equal. Harper is also six and a half years younger (!), which I take into consideration. A 19-year-old doing what Harper did is far more impressive to me than a 26-year-old doing what Frazier did. I thought Harper should have won and would have had Wade Miley second on my ballot, but I wouldn't have argued much if you had the two reversed. Frazier probably would have been third, but I also would have considered Norichika Aoki as well even though I hate that Japanese league veterans are considered rookies. The rules say they are though.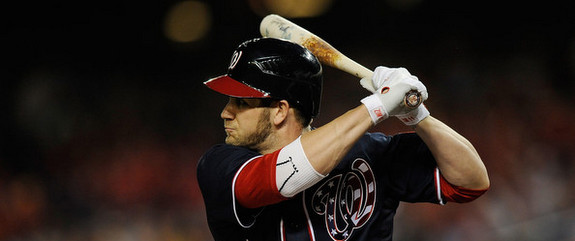 Philip asks: Mike how do you think your understanding and analysis of the game has changed/grown since the site started?
It's both changed and grown exponentially. I used to not be much of a stats guy at all, even back when we started the site in February 2007. I was a total jerk about it too, which I kinda regret. I understood that OBP was important and that pitcher wins and RBI weren't the best way to evaluate players, but I didn't take the time to fully grasp things like park effects and DIPS theory and different eras and leveraging relievers, stuff like that. Understanding context was the other big thing and I think it's still lacking in most baseball writing, especially when dealing with the minor leagues.
Joe and (to a lesser extent) Ben slowly looped me into the world of advanced stats and the problem was that I just didn't understand them. I didn't want to early on, so I didn't make much of an effort. There are some pretty great ways to measure a player's performance and everyone is welcome to pick their favorites. For example I prefer wRC+ for hitters because it's one easy to understand number (100 is league average, 120 is 20% better than league average, 80 in 20% worse, etc.) and it's adjusted for both park and league. Simple, right? The idea of WAR is a good one but the execution isn't great, mostly because the defensive metrics aren't completely reliable. I use it directionally (this guy is above-average, this guy is below, etc.) but I don't take the actual number to heart. The different between a 5.5 WAR player and a 5.0 WAR player is negligible and not worth arguing about. That level of accuracy doesn't exist within the stat.
Obviously I've learned a ton since we started RAB and baseball's one of those things where you just keep learning about every day. It's like everything else in life, not a day goes by without learning something new. I've found that the more I learn about baseball the more I both enjoy and dislike watching it, if that makes sense. It's neat to understand the value of a stolen base in a particular situation or understand why David Robertson is more valuable to the Yankees in the eighth inning instead of the ninth, but at the same time I can't watch a sacrifice bunt without rolling my eyes. I'll take being informed and frustrated at times over just "enjoying the show," so to speak. My level of appreciation for the game has skyrocketed.
GB asks: Would you rather have a player that hit .350/.350/.350, a player that hit .280/.350/.470, a player that hit .050/.500/.050 or a player that hit .200/.300/.900?
This is a decent follow-up to the last question, no? My preference would be …
.200/.300/.900
.280/.350/.470
.350/.350/.350
.050/.500/.050
I remember reading something this summer that showed SLG actually correlated better to runs scored than OBP over the last five or six or however many years it was. I wish I could find it now. That's not why my top choice is the .200/.300/.900 guy though, it's just that the power numbers are so extreme. A .700 ISO? That's insane. The largest ISO in baseball history is .536 by 2001 Barry Bonds, and no one else is over even .455 since Babe Ruth. If you offered me .200/.300/.600 instead, I probably would have had that guy second.
The #2 and #3 guys have the same OBP, so I'll happily trade some batting average for more power. More hits are nice, but at some point you need to be able to drive yourself in or get a man home from first base with one swing. Stringing together a bunch of singles to score a run isn't as easy as many people seem to think it is. The #4 guy has to be like, three feet tall or something. If you can't hit the ball you won't get challenged and the walks (and hit-by-pitches) aren't going keep coming to maintain that OBP.