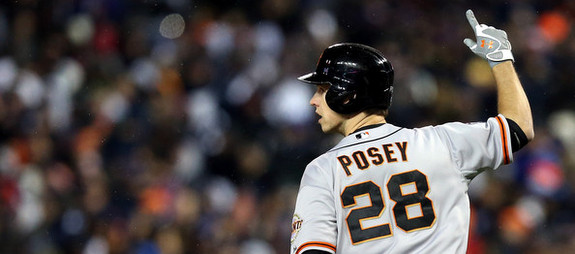 Drew asks: Since Yankee news has been slow lately, here is a fun question/scenario: If you could only pick one player from each team to make a roster and get it under the $189 million cap for 2013 who would you pick? It's tougher than it sounds (Kemp or Kershaw) (Votto or Chapman) etc.
It was tougher than it sounds but mostly on the fringes of the roster. Getting to spend an average of $6.2M per roster spot isn't all that difficult given some of the insane bargains out there, so I tried to take it easy on the pre-arbitration guys making the league minimum. Some of them (Mike Trout) were simply too good to pass up though.
The luxury tax is based on the average annual value of contracts. For players in their pre-arbitration years, I assume a flat $500k salary just to make the math easy (the league minimum is $480k). For arbitration-eligible guys, I used MLBTR's projections. I included the $10M for benefits and whatnot, so it's really a $179M limit for players and roughly $5.9M per roster spot. Here's my club…
Notice there are two tabs there, one broken down by roster spot and one broken down by MLB team. I tried to play fair and pick actual bench/platoon players for the bench spots as well as guys who could be sent to the minors in real life for the extra five spots. I had enough payroll space left over to go nuts on stars if I really wanted. I fudged a little by taking Giancarlo Stanton as my DH, but I could have easily taken David Ortiz ($13M) and finagled the bench to get a Marlin instead of a Red Sox on there.
I don't know how many games that roster would win but it sure would be a lot. Easily over 90 with perfect health and maybe even 100+. The lineup is bananas and I don't really know how I'd line those guys up, probably Trout, Cano, Braun, Votto, Posey, Longoria, Stanton, Harper, Andrus. There's no wrong answer really, you can make a case for Votto at leadoff given his ridiculous OBP. My rotation would probably go Verlander, Kershaw, Felix, Hamels, Sale despite Hamels being the highest paid. There's no way that roster could stay under the $189M luxury tax threshold beyond like, 2014, given the huge impending raises for Posey, Trout, Kershaw, Sale, and Kimbrel, but I'll happily take my chances the next two years.