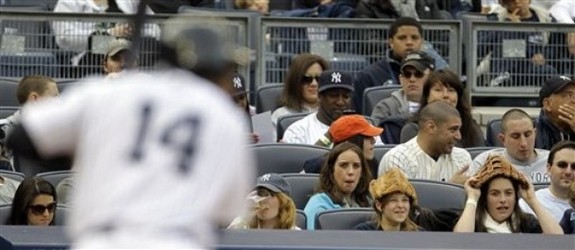 Over the last two seasons, Robinson Cano has been the Yankees' only position player more productive than Curtis Granderson. The team's 31-year-old center fielder disappointed to a tune of 43 homers and a 116 wRC+ this year, yet the Yankees still exercised his no-brainer $15M club option after the season. Strikeouts or not, that type of power is next to impossible to find.
Granderson is scheduled to become a free agent after next season and due to a number of factors, including the team's desire to get under the $189M luxury tax threshold by 2014, it's unlikely they'll look to re-sign him to a new contract. It's always possible, a lot sure can change in a year, but right now it seems unlikely. Since he only has that one year left on his contract, Buster Olney wondered if the Grandyman would be a surprise trade candidate this offseason. Here's his Insider-only blurb…
Curtis Granderson: The New York Yankees picked up his $15 million option for 2013, but given their other payroll concerns, it figures they would listen to trade offers for him. Granderson clubbed 43 homers last season, though he hit just .232 and struck out 195 times. For an interested team willing to give up a prospect, he could provide a big jolt of power without requiring the massive long-term investment.

A left-handed hitter with big power, Granderson has been an excellent fit for Yankee Stadium. But he hit 17 homers in 81 road games last season, as well, which was among the most in the majors.
Now just to be clear, Olney isn't saying the Yankees are shopping Granderson or that they've received inquires about his availability, he's just wondering aloud if his favorable contract situation will spark interest. He notes an NL executive framed it as: would you rather have Granderson at one year and $15M or Michael Bourn at $80-100M? What about Josh Hamilton at five years and $125M? The free agent market appears to be in "one extra year" mode early on, meaning every non-Hiroki Kuroda player who signs is getting one more year than originally expected. It's kinda scary.
Brian Cashman likes to say none of his players are untouchable in trades, but some are more touchable than others. He'd certainly listen if someone asked about Granderson, but at the same time he's already trying to replace one really productive outfielder this offseason. It would be close to impossible to lose both Nick Swisher and Granderson in one offseason and come out as a better team. Maybe they'd be better in the long run, but they certainly wouldn't be better in 2013. Since the Yankees figure to take a step back under the 2014 payroll plan, contending in 2013 would be damn well appreciated.
In a mailbag earlier month, I said the Yankees could probably fetch two good prospects for Granderson in a trade, but that's based on recent trades involving similar players with one year left on their contract. Perhaps the state of the free agent market scares a team into offering a third prospect, who knows. The point I'm trying to make here is that while the Yankees should be open to dealing Granderson if the right offer comes along, I don't think they should look to move him unless they get blown away. His value to the team in 2013 is big even if he strikes out 200 times and moves to a corner in deference to Brett Gardner. The Yankees are losing enough offense as it is this winter, but moving Granderson on top of that takes away two of their three best hitters over the last few years. That would be very tough to recover from given the rest of the roster.