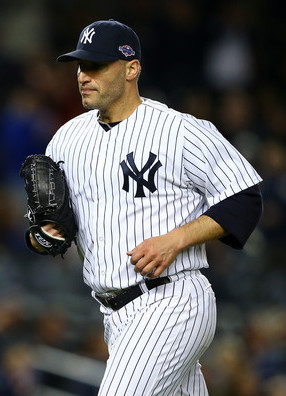 For the second straight offseason, the Yankees took care of just one piece of major business by the time late-November rolled around. Last winter it was signing CC Sabathia to a new contract extension before he exercised his opt-out clause, and this year it was re-signing Hiroki Kuroda before some other club lured him away. Unlike last offseason, however, we have a pretty good idea of what the Yankees will do next.
At some point soon, possibly before the end of this week, Andy Pettitte will let the team know if he plans to pitch next season. If he decides to return for another year as many expect, the two sides figure to hammer out a contract relatively quickly. Mariano Rivera has already let the club know he will return next season, and they've reportedly been talking about a contract for a few weeks now. For both guys it's not so much if they'll work out a new deal, but when.
Late last week Andrew Marchand wrote Brian Cashman is employing a "methodical, punch-list approach to the offseason. He would like to go in order in making his decisions, but will react if circumstances dictate." Items one through three on that punch list appear to be bringing Kuroda, Pettitte, and Rivera back for another year, and Marchand speculates that finding a starting catcher will be next. That makes sense given both the importance of the position and the dearth of quality backstops. Right field, the bench, the bullpen, and miscellaneous minor league depth pieces also figure to be on the agenda.
Moreso than Rivera, Pettitte is dictating New York's offseason pace. If he decides to return, they know the rotation is set with the three veterans up top, Phil Hughes as the four, and either Ivan Nova or David Phelps as the five. If he decides to retire again, the Yankees will have to search the free agent market for not only a legitimate AL East-caliber pitcher, but also a pitcher willing to sign a one-year contract given the 2014 payroll plan. That's much easier said than done since there are medical red flags associated with pretty much any pitcher open to a one-year deal, including guys like Dan Haren (back), Shaun Marcum (elbow), and Brandon McCarthy (head, shoulder).
Cashman tends to preach (and practice) patience, but that might not be possible this winter. Buster Olney recently explained how this offseason is essentially playing out backwards — asking prices have clubs seeking out bargains early while the top guys figure to sign late. The one-year contracts given out to Bartolo Colon and Scott Baker are the types of deals we usually see happen in January and February, not November. Maybe that approach will allow the Yankees to grab a premium free agent on a short-term contract later in the offseason — how great would Josh Hamilton look on a one-year pact worth $25-30M? — or maybe it leaves them scrambling for solutions because all the reasonably-price players already have new homes.
The Yankees have been connected to all sorts of players who fill their roster holes these last few weeks, but it doesn't seem like they'll move on any of them until Rivera and (potentially) Pettitte are signed for next season. The Winter Meetings start one week from today and that's when the hot stove really takes off around the league, so hopefully the club gets things sorted out with their two long-time pitchers before heading to Nashville in a few days.