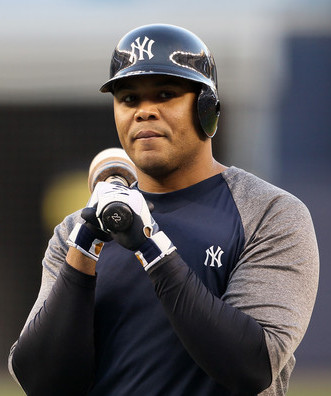 A year ago, the Yankees had one of the best fourth outfielders in baseball. Andruw Jones signed a one-year contract prior to the season and hit .247/.356/.495 (133 wRC+) in 222 plate appearances while destroying lefties (152 wRC+) and playing adequate defense in the outfield corners. The Yankees brought him back for 2012 on the exact same contract (one year, $2M) and hoped for similar production. They instead got much less.
Jones, 35, was actually very good in the first half, which I know is easy to forget. He went on a four-homers-in-three-games rampage in Fenway Park in early-July and carried a .244/.326/.535 batting line with eleven homers in 144 plate appearances into the All-Star break. Jones was hitting almost exactly as he had last year for the first three months of this season and for the most part no one paid him much attention. He was doing what he was supposed to do off the bench.
Andruw homered against the Blue Jays in the third game after the All-Star break and then simply stopped hitting. He fell into a 6-for-44 (.136) slump before hitting a big game-tying homer off Derek Holland on August 16th, but that was followed by a 3-for-27 (.111) stretch. Jones hit a pinch-hit homer against the Twins in the 154th game of the season, but at that point he'd lost his job as a designated outfield lefty masher. Ichiro Suzuki was playing left field everyday and Alex Rodriguez and Derek Jeter were taking turns at DH against lefties.
From July 18th, the day after that homer against Blue Jays, through the end of the season, Jones went just 14-for-99 (.141) with 27 strikeouts, including 11-for-74 (.149) with 18 strikeouts against left-handers. Arguably worse than the offense was the defense, as Andruw looked disinterested and often dogged it on balls hit into the gaps. I'm not normally one to question a player's effort level, but with Jones it was an obvious problem. No one ever expected him to defend like he did during his days with the Braves, but sheesh. He provided nothing with the glove.
One year after having one of baseball's best reverse outfielders, the Yankees received a .197/.294/.408 (89 wRC+) batting line out of Jones in 269 plate appearances this season. They left him off the playoff roster in favor of Brett Gardner, who had a total of three at-bats to his credit after coming off a season-long DL stint. After the season, Andruw said he played the second half with a finger injury suffered while sliding for a ball against Toronto immediately after the break, which fits the timetable of his offensive collapse and seems like a completely plausible explanation. It's not enough to excuse his performance, however.