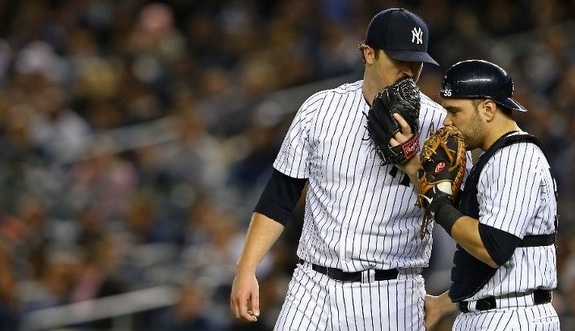 The Yankees got what amounted to 191.1 league average innings from Phil Hughes in 2012, solid mid-rotation production behind CC Sabathia, Hiroki Kuroda, and (at times) Andy Pettitte. It was certainly a bumpy right though, as Hughes battled through a miserable April and extreme homer problems throughout the summer.
April
It's easy to forget that Phil was the team's best pitcher in Spring Training and the Yankees rewarded him with the third spot in the rotation ahead of Ivan Nova. Hughes held the Rays to two runs in 4.2 innings in his first start of the season, the only time in April in which he would allow fewer than four runs. He completed five innings just once that month, twice allowing six runs in a start.
After those four April starts, Hughes owned a 7.88 ERA (6.53 FIP) in 16 innings and hitters had tagged him for a .329/.395/.658 batting line (.444 wOBA). You can even carry it over to his first start in May, when he surrendered four runs in 5.2 innings against the Orioles. Through his first five starts of the season, it was a 7.48 ERA (6.14 FIP) and a .298/.365/.617 batting line against. It was ugly. Ugly enough that many fans (myself included) wanted the Yankees to stick Phil back in the bullpen where he'd had his greatest success as a big leaguer. The team stuck with him though, and they were rewarded with 27 strong starts to close out the season.
The Homers
My goodness, where there a lot of homers this season. The Yankees hit a ton of 'em and their pitching staff also gave up a ton of 'em. They ranked fourth in the Majors with 190 homers allowed, eight more than the previous franchise record set in 2004. It wasn't just a Yankee Stadium thing either; they allowed the sixth most homers on the road this season (96).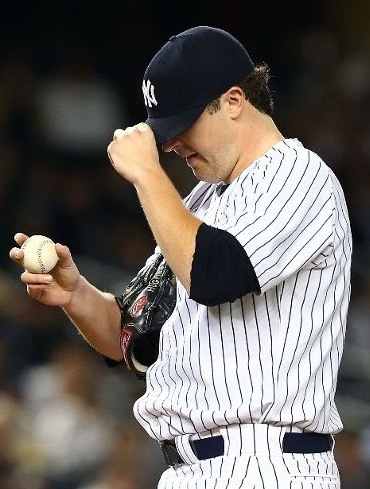 Hughes was the team's biggest long ball culprit by far. He ranked second in the big leagues in homers allowed (35) and homer rate (1.65 HR/9), both behind the recently-traded Ervin Santana. Because he's such an extreme fly ball pitcher (just 32.4% grounders), his HR/FB was a modest 12.4%, lower than Nova, Kuroda, and Sabathia. The fly balls allowed Hughes to enjoy a relatively low BABIP (.286), and when you combine that with his low walk rate (2.16 BB/9 and 5.6 BB%), you get an awful lot of solo homers (23 of 35). I suppose that's the silver lining.
As expected, Hughes did give up a ton more homers at home (2.01 HR/9) than on the road (1.26 HR/9) this year even though his ERA was considerably lower in the Bronx (3.74 vs. 4.76). What was really surprising was how much he struggled against right-handed batters (.394 wOBA) compared to lefties (.270 wOBA). That's the complete opposite of his career track record and is mostly BABIP (.238 vs. .340) and HR/FB (7.5% vs. 17.6%) related. Anecdotally, he seemed to struggled when coming in on righties, often catching too much of the plate. Since this is a one-year thing and not a trend, we should expect the right-left stuff to correct both ways. He'll probably perform worse against lefties and better against righties going forward.
* * *
Hughes opened the season by allowing at least one homer in his first dozen starts, the longest streak to open a season and second longest overall in franchise history. Only once all year did he go two consecutive starts without surrendering a dinger, and that was a three-game streak immediately prior to the All-Star break. Phil owns a career 1.34 HR/9 as a starter (578.2 innings), and the number of pitchers who survive with a homer rate that high long-term is very small. Hughes will be a free agent after next season and that homeritis is something the Yankees will have to be cognizant of when considering a long-term contract, but for now they should be happy that his awful April and homer-prone ways didn't sink their season.