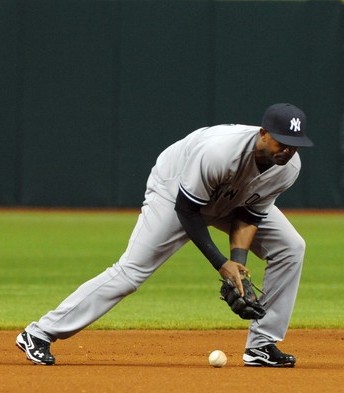 The Yankees didn't have much need for a utility infielder a few years ago, back when Alex Rodriguez, Derek Jeter, and Robinson Cano were locks to play 150+ games every season. Things have changed in recent years as A-Rod has started to breakdown and Jeter started to receive more and more rest. Ramiro Pena did the backup infield thing for a while, but Eduardo Nunez wrestled the job from him by hitting .301/.350/.421 with three homers and 13 steals in 200 midseason plate appearances last summer while Jeter (calf) and A-Rod (knee) were on the DL.
Nunez, 25, opened 2012 as the utility infielder for the second year in a row, and he hit a solid .294/.356/.373 with six steals in the team's first 31 games. He was playing primarily against lefties while either Jeter or A-Rod would spend the game at DH or even on the bench entirely. Nunez was contributing enough with the bat, but the problem was his perpetually sketchy defense.
He committed four errors in those first 31 team games: one at short, one one at second, and two at third. We're talking routine plays too, like this throw. There were several other botched plays as well, including two on ground balls to third in the first two innings against the Rays on May 10th. Tampa scored two unearned runs as a result, plus they tried to bunt towards Nunez several other times throughout the game. Joe Girardi lifted him for defense after the fifth inning, and a day later the Yankees sent Eduardo down to Triple-A to work on his defense.
The plan was to limit Nunez to the middle infield in hopes that consistent playing time at the same spot would improve his glovework, but he responded with two errors in his third Triple-A game. Five days later he jammed his thumb and had to be placed on the DL. Nunez missed close to two months with the injury, so he only managed to play in 44 minor league games. He made five errors in those 44 games, all at shortstop. The Yankees recalled Nunez when rosters expanded in September, and he hit .289/.293/.421 with five steals in 41 sporadic plate appearances. He also committed three more errors, all at short.
Nunez served as the team's primary DH against left-handers in the postseason, though he took over at shortstop full-time after Jeter fractured his ankle in Game One of the ALCS. He went 3-for-11 (.273) in five postseason games, most notably taking Justin Verlander deep in the ninth inning of ALCS Game Three. In three playoff games at short, he made one error that was inconsequential in the grand scheme of things. Girardi, as he had done during the regular season, lifted Eduardo for defense late a few times.
All told, Nunez hit .292/.330/.393 (93 wRC+) with one homer and eleven steals in exactly 100 plate appearances for the big league team in 2012. Anecdotally, most of his defensive issues seemed to come on routine plays. Whenever there was a hot shot or he had to range far for a ball and make a quick throw, he seemed to do fine. The defensive problems seemed to pop up most when he had time to think. The Yankees continued to give him chances and Brian Cashman says he views Nunez as a shortstop long-term, but he had an opportunity to cement his place in the team's long-term plans this year only to throw it away. (Pun completely intended)