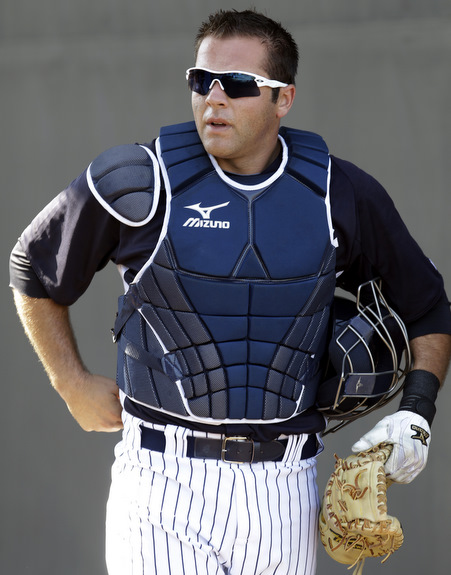 Not long before the Rangers signed A.J. Pierzynski, Jon Heyman said the Yankees were still unable to get excited about the long-time White Sox backstop. Despite their need for catching help, the 35-year-old who hit 27 homers last season just wasn't doing it for them. Instead, Heyman says the Yankees are "looking to go" with Austin Romine behind the plate next year, the youngest of their four (don't forget Bobby Wilson!) internal catching solutions.
Romine, 24, has had some of the blush come off his prospect rose these last two seasons due to back injuries. He's appeared in just 111 games since 2011 with only 97 starts behind the plate. That's a lot of development time lost at a crucial age, yet the Yankees are apparently open to using him as their primary big league backstop in 2013 because of his defense. Defense from the catcher position is something the team has become obsessed with in recent years, basically since they were able move Jorge Posada to DH full-time two years ago.
"He's a plus, plus defender … He can really play the position," said VP of Baseball Ops Mark Newman to Chad Jennings last week. You have to take quotes like that with a huge grain of salt because of course an organization is going to speak highly of its prospects. There's nothing to be gained by doing otherwise. Romine could be a terrible defender (he's not according to various scouting reports) and the Yankees could be well aware of it, but they'd never admit it. Remember how they insisted Jesus Montero could catch in the show and then did everything in their power to avoid using him behind the plate in September 2011? Kinda like that. Actions speak louder than words.
The Yankees are unlikely to make a meaningful catching addition before Spring Training just because the market is barren at the moment, both free agency and trades. That could change in an instant if some team decides to unload some salary, but I wouldn't count on it. Sending Romine to Triple-A for everyday reps while Chris Stewart and Frankie Cervelli handle big league duties would be the easiest solution for the club and possibly the best both in the short- and long-term. However, if they do take Romine north out of camp and use him as the primary backstop at the outset of the season, it would speak volumes about their true feelings of his defense. It would be a massive vote of confidence.