At some point in the next few weeks, the Yankees will get around to acquiring a regular DH and a right-handed platoon bat to pair with their all-left-handed hitting outfield. They might even acquire a real starting catcher, but I wouldn't hold my breath. The third base and right field holes have been addressed with the signings of Kevin Youkilis and Ichiro Suzuki, respectively, so the heavy lifting on the position player side of things is already complete.
Youkilis and Suzuki could not be any more different offensively, yet they both bring valuable skills. Youkilis doesn't have the power he once did, but he's still crazy patient and will provide tough at-bats each time up. Ichiro is a powerless speed-and- contact machine who puts the ball in play and dares the defense to convert it into an out before he reaches first base. Both guys are offensively valuable in their own way, and they both possess skills that allow them to hit in different batting order spots without looking out of place.
If the season started today, it's fair to say that Robinson Cano, Mark Teixeira, and Curtis Granderson would occupy the three-four-five spots in the lineup in whatever order. The catcher presumably bats ninth. Assuming Derek Jeter's fractured ankle heals up in time for Opening Day, he'll bat either first or second no questions asked. That leaves the Yankees with this basic lineup structure…
Jeter or ?
Jeter or ?
Cano, Tex, or Grandy
Cano, Tex, or Grandy
Cano, Tex, or Grandy
?
?
?
Not Russell Martin
One of those ?s will go to Brett Gardner, two others to Youkilis and Ichiro. The other goes to the DH, whoever that ends up being. Ichiro initially batted towards the bottom of the order after coming to New York at midseason, but he eventually hit his way into the two-spot behind Jeter. Youkilis, on the other hand, also hit second with the White Sox after they acquired him from the Red Sox. They both have number two hitter profiles, it just depends on whether your a traditionalist (Ichiro) or saber-slanted (Youkilis).
Before we move any further, let's quickly look at some platoon data…
| | wRC+ vs. LHP (2012) | wRC+ vs. RHP (2012) | wRC+ vs. LHP (2010-2012) | wRC+ vs. RHP (2010-2012) |
| --- | --- | --- | --- | --- |
| Gardner | 446 | 21 | 103 | 106 |
| Ichiro | 80 | 97 | 87 | 96 |
| Jeter | 157 | 99 | 150 | 85 |
| Youkilis | 135 | 89 | 174 | 109 |
First off, ignore Gardner's splits for this season because he barely played (only 37 plate appearances). Other than that, there are some rather drastic platoon splits here, particularly with Jeter and Youkilis. Those two destroy southpaws but aren't nearly as productive against righties. Ichiro is worse off against lefties (especially of late) while Gardner shows almost no split. That info should be a consideration when Joe Girardi fills out his lineup card.
Given their mammoth production against southpaws, it seems pretty obvious that Jeter and Youkilis should bat one-two whenever there's a left-hander on the mound. Assuming the Yankees sign a right-handed hitting outfielder to platoon with their left-handed outfield bats, that guy could hit sixth while either Gardner or (preferably) Ichiro sits. The DH goes seventh (that could be another platoon situation as well), the not-sitting outfielder eighth. That part is simple, but the lineup against righties isn't as straight forward.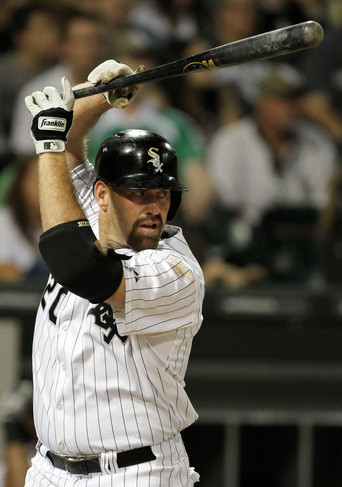 For one, Jeter's platoon split is irrelevant. He's going to bat first or second no matter what because he's Derek frickin' Jeter. Given Youkilis' decline against same-side pitchers in recent years, he's not the ideal two-hole hitter even though his production against righties is the best of the quartet's over the last three seasons. Ichiro has the veteran clout over Gardner even though he may be a lesser hitter at the moment. Girardi could go with Jeter at leadoff and either Ichiro or Gardner at two against righties, or he could go Gardner or Ichiro at leadoff with Jeter at two to break up the lefties near the middle of the order.
Although Gardner is not the hitter for average that Ichiro is, he's far better at getting on-base. He hasn't had a sub-.345 OBP since his partial rookie season in 2008 while Ichiro hasn't been above .310 (!) since 2010. The on-base split is even more drastic when we look at just right-handed pitchers, and you want men on-base for Cano & Co. It's also worth noting that Gardner's contact rate (90.6%) is actually better than Ichiro's (90.1%) during the PitchFX era (2007-present). His strikeouts tend to be looking, as you know. Considering that Cano is likely to hit third and Girardi loves to split up his lefties, Gardner is the better choice to hit leadoff against righties even if he's not the future Hall of Famer on a pricey two-year contract.
Everything kinda falls into place after that. Youkilis can hit sixth, the DH seventh, Ichiro eighth, and then the catcher ninth. Flipping Youkilis with DH is possible as well, though I'm working under the assumption that Granderson will bat fifth and the DH against righties will be a left-handed hitter. Gotta split dem lefties. You get speed and contact at the top and bottom of the batting order with the thunder in the middle against right-handers, but against lefties the thunder starts right at the top with this arrangement. Lineup things would change quite a bit if the ankle prevents Jeter from being ready for Opening Day, but that's a not a problem worth worrying about yet.