Several people asked: What about Alfonso Soriano?
Soriano, 37 next month, is coming off a .262/.322/.499 (116 wRC+) line with 32 homers this past season, his best performance in about four years. He'd hit .248/.305/.463 (100 wRC+) in nearly 1,600 plate appearances from 2009-20112 until the dead cat bounce in 2012. Soriano did not benefit from BABIP luck — his .303 mark exactly matched his career average — but his HR/FB rate did spike back up to 17.8% after sitting at 12.4% from 2009-2011 (17.1% from 2006-2008). There is an explanation for that.
After opening the season with no homers and a .250/.288/.302 batting line through his first 125 plate appearances, Soriano switched to a lighter bat — 33.5 ounces to 32 ounces according to Gordon Wittenmyer — in mid-May to compensate for his age-related loss of bat speed. He hit seven homers from mid-May through the end of the month and .265/.331/.551 with all 32 of those homers in his final 490 plate appearances of the year. The lighter bat led to a big change in batted ball profile, which you can see in the day-to-day graph…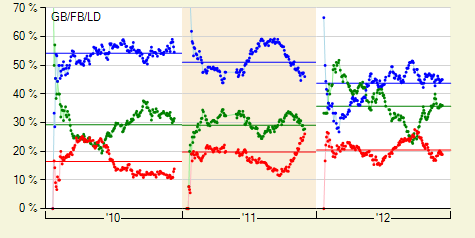 After posting a ground ball rate right at 30% from 2009-2011, Soriano was hitting the ball into the ground 40-45% of the time early in the season. The ground ball rate came down and the fly ball rate went up following the change in bats, and more fly balls means more homers. Unlike many HR/FB (and therefore overall production) spikes, there's a tangible reason why he started hitting the ball differently after mid-May.
Soriano has hit left-handers pretty well over the last three seasons (127 wRC+) and that continued this past year (117 wRC+). He's been good enough against righties (116 wRC+ in 2012 and 105 from 2010-2012) that he's not a straight platoon candidate. Soriano will still strike out a bunch (23.3 K% from 2010-2012) and not walk (6.2 BB% from 2010-2012 when you remove all the intentional walks), plus these days he is no longer a stolen base threat (13-for-17 in stolen base attempts from 2010-2012). Depending on your choice of defensive metric, he's either pretty good (UZR and Total Zone) or pretty bad (DRS and FRAA) in left. Based on what I've seen these last few years, which admittedly isn't a ton, I lean towards the latter.
Soriano's contract is a nightmare, as the Cubs still owe him $18M in both 2013 and 2014. Jon Heyman recently reported Chicago is willing to pay $26M of that $36M to facilitate a trade, but only if they get a good prospect in return. If the Yankees were to swing a trade for their former second baseman, the luxury tax would only apply to whatever they're paying Soriano. Say the Cubs eat that $26M, the luxury tax would only apply to the remaining $10M ($5M annually) assumed by New York. It wouldn't be an $18M luxury tax hit even though he'll actually earn that much salary.
The Yankees need both a right-handed hitting outfielder and a DH, two roles Soriano is qualified to fill at this stage of his career. Scott Hairston is likely to command a two-year, $10M deal similar to what Jonny Gomes received from the Red Sox, so the Bombers could simply sign him for the same salary as Soriano and keep their prospect(s). They're both low-OBP, power-driven right-handed hitters, but Hairston is quite a bit younger. The lighter bat is nice, but you still have to worry that at some point Soriano just won't be able to produce anymore given his age. More than anything else, the price will dictate if he's a reasonable acquisition. Both the money and prospect cost has to be right since he's a git, but not a perfect fit.