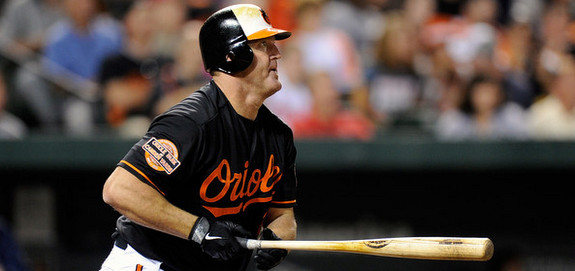 As of right now, the Yankees are lacking an obvious solution for the catcher, right field, and third base positions. They are also sans DH, which is less of a problem but still something that needs to be addressed prior to Spring Training. New York has used that DH spot as a bit of a revolving door in recent years, something that figures to continue out of necessity (lots of old players) rather than preference. David Ortiz and Billy Butler are the only true full-time DHs these days (though Victor Martinez will join them when he returns next spring), so the revolving door thing has been catching on around the league.
Once those third base and right field positions are addressed — I'm becoming increasingly convinced the Yankees will not bring in another catcher, at least not a legitimate starting-caliber guy — the Yankees will sort through the scraps and find someone to plug in at DH next year. It's what they did last offseason following the Jesus Montero trade. Given the rest of the lineup, the Yankees should seek out some specific traits in their next DH rather than grab the last box on the shelf as they run out of the offseason supermarket in February.
Versatility
This sounds silly when talking about a DH, but the Yankees will definitely need someone who can step in and play a real position in case of injury. We all laughed when they said Raul Ibanez's defense was part of the reason why they signed him over Johnny Damon and Hideki Matsui last winter, but sure enough Ibanez wound up starting over 70 games in the outfield due to Brett Gardner's injury. The Yankees are going to need a similar player this season, someone they can stick in the outfield or even just at first base (since there is no obvious backup to Mark Teixeira at the moment) at a moment's notice.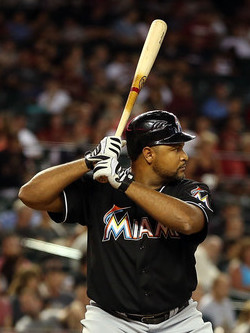 Lineup Balance
Let's assume for a second that the Yankees will re-sign Ichiro Suzuki while adding Kevin Youkilis, plus Derek Jeter's fractured ankle will be just fine and dandy come opening day. In that scenario, the Yankees will have four left-handed batters (Robinson Cano, Curtis Granderson, Brett Gardner, Ichiro), three right-handed batters (Jeter, Youkilis, whoever the catcher is), and one switch-hitter (Mark Teixeira) in the order. That's a lefty-leaning lineup when you consider that the Cap'n isn't a power guy and the catcher is all but guaranteed to stink.
The AL East and even the AL in general is chock full of tough left-handers, so the Yankees should look for someone who can hang in against southpaws given their utter lack of right-handed production. Finding a generic left-handed platoon masher who will pop 20 dingers thanks to the short porch is the simplest solution, but adding some diversity to the lineup and finding a right-handed batter who can hit both righties and lefties would be the ideal choice. Those guys are very hard to dig up, however.
Experience
This is often overlooked, but it's not easy to be a DH. I've seen research suggesting the penalty for a DH is similar to the penalty for pinch-hitting, indicating that a player's production will decrease roughly 10% from their expected line when shifted to the DH spot full-time. It's not easy to sit on the bench all night and be productive in your four or five at-bats. The last thing a team wants to do is sign a regular position player and stick him at DH full-time only to find out he's not the same hitter when he can't figure out how to stay sharp between at-bats. Finding someone who has some experience at the position isn't absolutely imperative, but it's something that should at least be on the punch list.
* * *
Looking at the free agent list, the ideal candidate based on the criteria above is former Yankee Lance Berkman. He can play right field as well as first base, is a switch-hitter (though he's not much of a threat against southpaws, just an 87 wRC+ vs. LHP since 2010), and has a little DH experience from his time in New York. Berkman's knees (both of 'em) are a major question mark though — he's had something like seven surgeries between the two of them and managed just 97 plate appearances this year because of a problem with the right one. The idea that he can play right field and first base is just a theory based on his history and hardly a given based on his current physical state.
The free agent options are limited beyond Puma, with Ibanez standing out from the crowd of Travis Hafners and Aubrey Huffs and Jim Thomes and Hideki Matsuis. Carlos Lee could make sense as a part-time DH/backup first baseman/corner outfielder faker because he's a contact-oriented right-handed batter who can still hit lefties (113 wRC+ last three years), but he invoked his no-trade clause this summer to block a deal to the Yankees because it was too far from home. Hard to believe he'd change his mind a few months later as a free agent, but it wouldn't be the strangest thing to happen.
In all likelihood the Yankees will wait until January or February to sort out the DH situation. They'll have a better idea of Jeter's return date and also a little info about A-Rod's hip and expected recovery time by then, painting a clearer picture of their needs (long-term solution or a stopgap?). They didn't ink Ibanez until the middle of February this season, after pitchers and catchers had reported, and something similar figures to happen this year. The DH spot is typically a low priority, but it's nothing the Yankees should brush aside given the production hits they're expected to take in right, at third, and behind the plate.