The loss of Alex Rodriguez to a left hip injury has turned a needy yet straight-forward offseason into a chaotic mess that has left the Yankees scrambling for solutions at four everyday positions. We already knew they needed a right fielder, a catcher, and a DH, but adding a third baseman on top of it while trying to avoid spending precious 2014 dollars could prove to be impossible. The way I see it, the Yankees are going to wind up plugging their third base hole in one of four ways. Let's break each of 'em down.

The Trade Market
Trading for help on the left side of the infield is tough these days, especially since the Padres have said they will not move Chase Headley following his monster year. Even if they were open to it, I don't think the Yankees have the pieces to acquire him unless San Diego is open to taking a bunch of Single-A outfielders. We do know this much: teams have been calling Brian Cashman in an attempt to take advantage of the team's situation following A-Rod's injury.
"I've had a few of maybe the names I wouldn't have thought of – lesser names that I wouldn't have an interest in – volunteer their services for that position," said Cashman on Tuesday. "I've had some people suggest, 'Hey, my guy who plays second base, he can swing over to play third.' That type if stuff. I don't have an interest in stuff like that … I did have one (ridiculous trade offer), which I assume has everything to do with (A-Rod's injury). I'm no longer talking to that club."
Potentially available trade targets could be guys like Chris Johnson (now that Eric Chavez signed with the Diamondbacks), Jamey Carroll, Chris Nelson with the Rockies, and I suppose Juan Francisco with the Braves. All flawed in their own way, but they are guys who could help weather the storm early next season without costing an arm and a leg to acquire. They can't all be Mike Olt.
Mark Reynolds & Kevin Youkilis
Of the remaining free agent third base options, these two right-handed hitters stand out as the best. They both have their strengths and weaknesses — I recently wrote a Scouting The Market post for both players (Reynolds, Youkilis), so I'll just refer you back to them for the specifics — and reports indicate that both are willing to take a one-year contract. That's pretty important to the Yankees these days. If they're willing to spend premium dollars for a solution at the hot corner, one of these two is their guy.
The Scrap Heap
The free agent third base market is funny. There was no true top tier this offseason, no Adrian Beltre or Aramis Ramirez types, so Reynolds and Youkilis are tier one. The guys who usually make up tiers three and four are tier two this winter by default. It's pretty grim. I'm talking about guys like Jack Hannahan (brilliant defender, can't hit), Alex Gonzalez (coming off knee surgery), Scott Rolen (probably going to retire), Placido Polanco (bad back), Casey McGehee (been there, done that), and Chone Figgins (lolnope). The crop of minor league free agent third basemen (Josh Bell? Ruben Gotay? Andy LaRoche?) isn't all that inspiring either.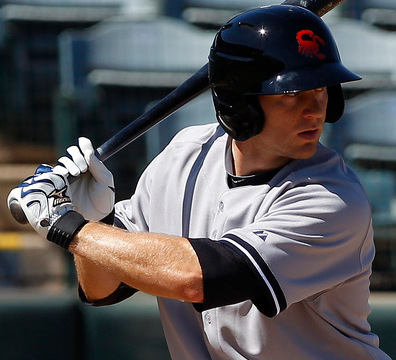 Internal Options
The Yankees do not have a high-end, or even just a solid third base prospect on the cusp of the big leagues. David Adams most closely qualifies as one of those and he has played a whopping 37 games at the hot corner in his career. Corban Joseph has played 43 career games at third but he's nothing more than an emergency option at the position because he doesn't have the arm for it. Eduardo Nunez has the tools — arm strength and first-step quickness — for third base but just can't seem to do anything right defensively. With the Yankees saying they want to keep him at shortstop, it appears as though he's a last resort option at third.
I do wonder if the combination of A-Rod's continued breakdown and Dante Bichette Jr.'s miserable season will make the Yankees consider moving Tyler Austin back to third base. He was drafted as a catcher and moved to third immediately as a pro, but this season the team shifted him to right field in part due to the presence of Bichette at the same level. Austin has the bat for any position and if he can handle the hot corner defensively, it's something they should seriously consider. At the same time, there's no much going right with Austin that you don't want to screw it up by having him change positions yet again.
If the Yankees were to go with an internal option, Adams is probably the team's best hope for a league average (or even just slightly below) performance next season. I'm not very confident he could skip over Triple-A and do it, but I guess stranger things have happened. And who knows, maybe Adams surprises and hits well enough that he makes the team think twice before dropping nine-figures on Robinson Cano after the season. His nature position is second base, you know. At the very least, I expect the Yankees to import some veteran competition for the kids if they're unable to sign Reynolds or Youkilis and can't swing a trade. At least make Adams or Nunez or whoever earn it in camp.