The Yankees addressed their third base and right field vacancies earlier this week, agreeing to sign both Kevin Youkilis and Ichiro Suzuki to short-term contracts. A few weeks back they shored up the rotation with new one-year contracts for Hiroki Kuroda and Andy Pettitte, and Mariano Rivera returned on a one-year pact of his own to reclaim the ninth inning. That's five pretty substantial additions addressing five major roster holes, but there is still plenty of work to be done.
Starting Catcher
With each passing day, I am less and less confident the Yankees will add a legitimate starting catcher this offseason. The options are limited enough already, but the club's continued insistence that the internal solutions (Chris Stewart, Austin Romine, and Frankie Cervelli) will get an opportunity is difficult to avoid. Yeah, this could be another "Bubba Crosby will be our center fielder" moment, but you'd think there would be a little more urgency given the importance of the position. The Yankees need a starting-caliber catcher and this will remain priority number one until they get one, whether it be this offseason or at the trade deadline or next winter.
Right-Handed Hitting Outfielder
With Ichiro on his way back to join Brett Gardner and Curtis Granderson, the Bombers are going to have three left-handed hitting outfielders. Ichiro is most in need of a platoon partner, though the case can be made that Gardner and (to a lesser extent) Granderson should be platooned as well. There are far too many good lefties in the AL East (and AL in general) for any team to not carry a big right-handed bat, and I'm sorry, Youkilis and Derek Jeter alone are not going to cut it when the season opens. Scott Hairston is the popular free agent name but he's hardly perfect given his lack of plate discipline (.308 OBP vs. LHP since 2010) and affinity for the DL. The recently designated Scott Van Slyke could be a cheap option as well. A right-handed outfield bat is an absolute necessity given the team's current roster construction.
Starting DH
Even if his rehab from the fracture ankle goes perfectly, I suspect we'll see Jeter get plenty of starts at DH early next year. Ichiro and Youkilis figure to get regular turns at DH as well given their age and brittleness, respectively, so the Yankees are unlikely to target a true full-time DH. As I wrote earlier this week, someone who can actually play a position and rotation in and out of the DH spot fits the roster best. It could be Raul Ibanez again, though I'd prefer someone who can provide more offensively given the expected production hit at right field and behind the plate.
Utility Infielder
With Jeter (and eventually A-Rod) coming off injuries and Youkilis a perpetual threat to land on the DL, having a competent backup infielder will be important for the Yankees next season. The team vows that Eduardo Nunez will be limited to shortstop duties going forward, so they'd have to change plans to use him at different positions. Given his defensive issues, he's not an ideal candidate anyway. Jayson Nix is an okay reserve player and he remained with the organization after being removed from the 40-man roster, but he's not someone the team should feel comfortable playing at short for a week should the Cap'n get banged up. The Yankees have some decent internal options and the free agent market is barren, but upgrading the utility infielder position should be on the agenda.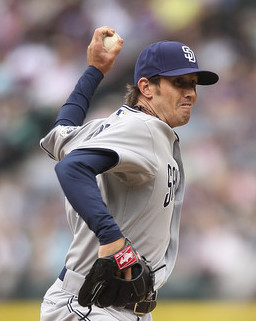 Depth, Depth, Depth
The Yankees have been aggressive with the scrap heap pick-ups this offseason, claiming four relievers (lefty Josh Spence and righties Jim Miller, Mickey Storey, David Herndon) off waivers. Storey has since been lost on waivers, but Spence and Miller remain with the team while Herndon was released and re-signed to a minor league contract. He's rehabbing from Tommy John surgery and will be ready at midseason.
Ivan Nova and David Phelps will serve as the fifth and sixth starter in whatever order, then Adam Warren is the obvious candidate for the seventh starter's spot. Chase Whitley and maybe Dellin Betances will open the year in the Triple-A bullpen while Mark Montgomery will be one notch down in Double-A. Nix and David Adams provide infield depth while I guess Melky Mesa is first in line for outfield reinforcements.
Baseball these days isn't just about the 25 guys on the active roster, teams need viable depth players stashed in Triple-A to make it through the season. These players are especially important for the Yankees, who sport a ton of older players and have a number of players who will be coming off offseason surgery when Spring Training opens. Waiver claims, minor league signings, all of those moves are important no matter how inconsequential they may seem.