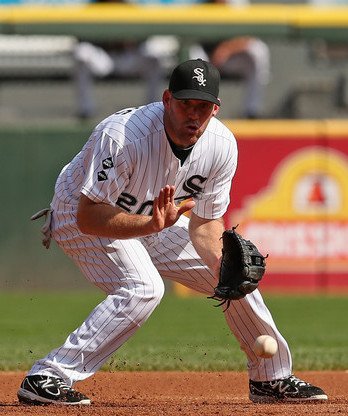 The Yankees have won at least 95 games in each of the past four seasons, but as of right now it's hard to see them winning that many games again in 2013. They don't have a starting catcher, a starting right fielder, a starting third baseman, a DH, or a bench. There's still more than two months of offseason left to address those needs, but as of right now the Yankees look like an 85-win team. In fact, SG's most recent CAIRO projections have New York winning 85 games in 2013, good enough for third place in the AL East but not a playoff spot.
So far this offseason both the Red Sox and Blue Jays have improved their teams quite a bit while the Rays have taken a step back (by trading James Shields) and the Orioles have done absolutely nothing other than cut ties Mark Reynolds. Isn't that weird? That a surprise, upstart team like the Orioles has done nothing to improve in an effort to make another run? Anyway, the AL East again figures to be a very tight race — SG's projections have four of the five teams winning 84-86 games — next year and therefore the value of every win added this offseason means that much more.
That's the concept of marginal wins. With four of the five AL East teams currently projected to win between 84-86 games, the team that adds say, three wins through a free agent signing (Kevin Youkilis?) will improve their chances that much more. Furthermore, a 75-win team adding a three-win player doesn't have the same impact as an 85-win team adding a three-win player because only one of those teams is realistically improving their shot at a playoff berth. A playoff berth brings playoff revenue and all sorts of neat stuff. Grabbing those three (an arbitrary number I pulled out of the air to use as an example) wins is a significant move in the AL East right now.
The new playoff system has shifted the marginal win spectrum a bit. Going from those 85 wins to 88 wins improved your chances of getting a wildcard spot, and under the old rules a wildcard team had as much of a chance as the three division winners. Now it's so much more important to win the division in an effort to avoid that one-game, winner-take-all wildcard scenario (which might not even be a revenue-generating home game), and 88 wins won't be enough for the AL East crown. It's going to take something like 93-96 wins, maybe more. Going from 85 to 88 helps a bit, but making a series of moves to go from 85 to 93 wins would help a lot more.
Without doing an in-depth and literal WAR analysis, the losses of Nick Swisher, Russell Martin, and Alex Rodriguez will cost the Yankees something like seven games in the standings assuming replacement level replacements. Figure four for Swisher and two each for Martin and Rodriguez. They'll get some of those wins back by replacing 2012's left field conglomerate with Brett Gardner and some more by replacing Freddy Garcia with Andy Pettitte. Derek Jeter is unlikely to replicate his 2012 production though, so that's another hit. Replacing those seven wins won't be easy, especially since there really isn't a way to replace Martin. Maybe Youkilis and Ichiro Suzuki sign and each put up a surprising three-win season, but they Yankees would still need more to break their way to make up for the production they're losing.
The Orioles were a surprise contender this year and even if they take a step back without the benefit of a historically good record in one-run games, the Blue Jays should step in to take their spot among AL East contenders. The Rays are always tough, with or without Shields, and the Red Sox will be better than they showed last year. The division race will again be very tight next season and grabbing those marginal wins this offseason, even by overpaying for them, greatly improves each team's chances to win the AL East. The Yankees are actually in a position to add a number of wins to their current roster given the opportunity to upgrade in multiple positions, which isn't something you can't really say about the other four teams in the division.