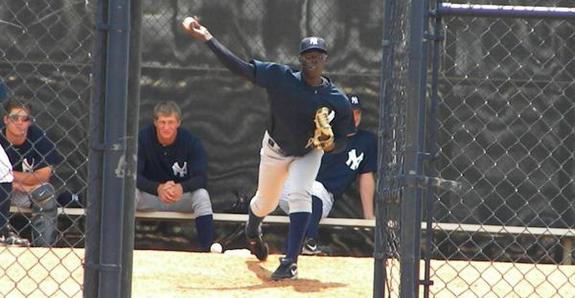 Travis asks: Mike, not a whole lot is made of the DSL. Since the Yankees have added a second GCL team, can you do a top ten DSL players that could make the jump to GCL play?
The DSL, or Dominican Summer League, is the lowest level of affiliated professional baseball aside from Extended Spring Training, which isn't even a real league. The DSL is for internationally signed players (not just Latin America either) before they're deemed ready to come to the United States. Some prospects, like Jesus Montero, skip the DSL entirely. Others, like Francisco Rondon, can spend several years there.
The Yankees have had two DSL affiliates since 2007, and prior to that they had one and a half — one full squad and another they split with the Padres. I don't pay much attention to the team's DSL affiliates because there's so much misinformation out there about the kids playing in the league, plus the vast majority of them never make it to the states anyway. The addition of the second Gulf Coast League affiliate should bring more players stateside in the coming years.
I'm going to short-change Travis here and only list seven DSL players who could/should make the jump to the GCL this coming season. I just don't have enough info on the rest of the guys down there to list another three players, but trust me, there are plenty of others who will come stateside this year. These guys are alphabetical, so don't confuse this for a ranking.
SS Abi Avelino — Signed for $175k in 2011, the 17-year-old Avelino was touted as a defensive whiz at the time of the deal. He hit .313/.409/.402 (139 wRC+) with 19 steals (in 21 attempts) this summer, creating some optimism about his offensive potential.
RHP Cris Cabrera — The Yankees signed the 20-year-old right-hander for $400k back in 2009, but his development has been derailed by Thoracic Outlet Syndrome. Cabrera was healthy this year and pitched to a 2.84 ERA (4.02 FIP) in 57 innings. He's a low-to-mid-90s fastball guy when right.
RHP Rafael DePaula — If you've been reading RAB long enough, then you probably already know DePaula was the team's best prospect in the DSL this summer. It wasn't particularly close either. Here's his Prospect Profile.
RHP Dallas Martinez — Martinez, 19, draws comparisons to Manny Banuelos because he's an undersized pitcher from Mexico. The right-hander received a six-figure bonus in 2011 and pitched to a 2.19 ERA (3.14 FIP) in 65.2 innings this summer. He's a three-pitch guy with polish but not a ton of upside.
OF Wilmer Romero — Signed for $656.5k in 2010, Romero hit .292/.347/.500 (139 wRC+) with six homers this summer after a disappointing 2011 effort (94 wRC+). The 19-year-old has filled out and slowed down a bit, so the tools package isn't as impressive as it was a few years ago.
RHP Luis Severino — The Yankees signed the 18-year-old Severino for $225k in 2011 and he posted a 1.68 ERA (3.14 FIP) in 64.1 innings this year. His fastball sits in the 91-96 range and his slider is on the path to becoming an out pitch.
IF Chris Tamarez — A shortstop when the Yankees signed him for $650k back in 2010, the 19-year-old Tamarez has since moved over to third. He hit .333/.390/.487 (149 wRC+) with five homers this summer, but there's concern about his propensity for the swing-and-miss despite modest power potential.
There's a very good chance C Luis Torrens, who signed for $1.3M this July, will skip right over the DSL and play in the GCL next year. The team's two other big money 2012 international signings, OF Alex Palma and SS Yancarlo Baez, are less likely to come stateside right away. 3B Miguel Andujar was New York's top international signing in 2011 and he jumped right to the GCL this year.