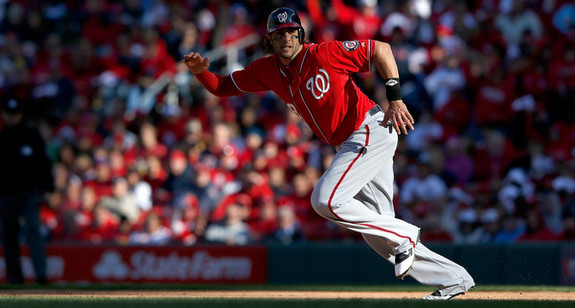 Early yesterday afternoon, we learned the Nationals agreed to re-sign Adam LaRoche to a new two-year contract. The move essentially pushed Mike Morse out of the team's plans, as his primary positions — outfield (Denard Span, Bryce Harper, Jayson Werth) and first base (LaRoche) — are now occupied by players who aren't going anywhere. Shortly after the LaRoche news broke, Ken Rosenthal reported Washington was discussing Morse in trades with several teams. Shortly after that, we learned the Yankees have interest in acquiring him.
The fit is obvious. Morse, 30, is a right-handed hitter with power who is signed for just one more year at an affordable $6.75M. He'll become a free agent next offseason. The Yankees need a bat and have been fixated on one-year contracts all winter, and Morse fits both bills. Given the Nationals' reported asking price — a left-handed reliever and prospects/pitching depth — the Yankees would be hard-pressed to find a better trade fit. Before we move any further, let's break down Morse's game just so we all understand what he brings to the table and where his game is lacking.
The Pros
Morse offers big time power from the right side. He hit 18 homers in 102 games last season and 31 homers in 146 games a year ago. Nationals Park is perfectly neutral when it comes to right-handed homers according to the park factors at FanGraphs, so Morse's power production was not inflated by his ballpark. Over the last three years, he owns a .220 ISO and a 21.3% (!) HR/FB rate.
Late Update: I neglected to mention this, but Michael Eder at The Yankee Analysts bailed me out. Morse does a lot of damage to the opposite field, which fits very well for a right-handed hitter in Yankee Stadium.
Morse does not have a platoon split at all. He's hit .296/.344/.512 (133 wRC+) against righties and .294/.349/.517 (136 wRC+) against lefties over the last three years. He managed a 117 wRC+ against righties and a 102 wRC+ against lefties in 2012, but there are some sample size issues with the latter (barely 100 plate appearances).
In nearly 1,700 career plate appearances, Morse owns a .344 BABIP (.339 since 2010). It's not a fluke at this point. He's a ground ball (48.4% last three years) and line drive (18.9%) hitter, which tends to result a lot of base hits. Unsurprisingly, Morse is a career .295 hitter in the show (.296 last three years).
Morse does offer some positional flexibility. He came up as a shortstop with the Mariners (despite being 6-foot-5), but that didn't last and he's since settled in as a corner outfielder/first baseman. DH is also an option as well, obviously.
As I said before, Morse is owed just $6.75M next year and will become a free agent after the season. By acquiring him this offseason, his new team would be able to make a qualifying offer next winter and receive draft pick compensation should he sign elsewhere. A midseason trade doesn't allow that.
The Cons
Morse's plate discipline leaves a lot to be desired. He's walked in just 5.7% of his plate appearances over the last three seasons, including 3.7% (!) in 2012. His strikeout (22.1%) and contact (75.5%) rates are both well-below-average during that time, ditto his miniscule 3.69 pitches per plate appearances average. Quick at-bats are not the Yankee Way™, but that's what you're getting here.
He's no stranger to the DL. Morse missed most of Spring Training and the first two months of last season with a right shoulder strain, and in 2010 he missed a month with a calf problem. Morse also missed the entire 2008 season with a torn labrum in his right shoulder, and two years before that he missed a few weeks with right knee surgery.
The ground ball tendencies became quite extreme last season. Morse posted a 55.3% grounder rate in 2012 after sitting at 44.8% from 2010-2011. That explains the .190 ISO, which was his lowest full season mark since his rookie year in 2005. When a power hitter has a shoulder problem and suddenly has a tough time lifting the ball in the air, it's a red flag.
Morse offers zero speed or value on the bases. He's 6-for-12 in career stolen base attempts and has taken the extra-base (first-to-third on a single, etc.) just 33% of the time through the years. The league average is in the 39-40% range.
Morse is a bad defensive outfielder. The various metrics all agree he's been a poor defender since finally breaking out as a full-time player three years ago: -24.5 UZR, -8 DRS, -2 Total Zone, and -3 FRAA. The first base metrics are a little better, but stats on first base defense aren't as reliable as they are at the other positions.
The Yankees continue to seek a right-handed hitting outfielder to complement their all left-handed hitting outfield, but Morse is far too good for a platoon role. He's not an Andruw Jones-esque bench player. Morse should be in the lineup against both righties and lefties on an everyday basis, preferably as the DH. If they have to stick him in right field twice a week to give some of the older guys time at DH, so be it. They lived with Raul Ibanez out there on an almost full-time basis last summer and he wasn't nearly as good offensively (late-season super-clutch homers aside). Morse "strongly opposes" being a DH, but that's not really his decision to make at this point of his career.
Like I said in the intro, the Nats are seeking a lefty reliever and prospects/pitching depth in return for Morse. That lines up with recent trades involving one year of similar hitters like Carlos Quentin (White Sox to Padres) and Josh Willingham (Nats to Athletics), so Washington isn't being unreasonable. The Yankees have plenty of left-handed relievers to offer in a trade, that's not an issue. Boone Logan's name jumps out because he'll be a free agent next winter like Morse, but c'mon, a lefty reliever shouldn't be a dealbreaker. If the Nats want Clay Rapada (who is more effective against lefty hitters than Logan) or Cesar Cabral or Francisco Rondon instead, fine.
The rest of the package is where the haggling figures to happen. New York has some minor league pitching depth to dangle in Adam Warren, Brett Marshall, and Nik Turley, though Washington figures to push for Ivan Nova or David Phelps. Those two shouldn't be off the table, but I think the Yankees would have to get something else back in addition to Morse. Maybe they could really expand the deal to include one of Washington's catchers — Wilson Ramos or Kurt Suzuki. That's a whole other can of worms I don't want to worry about right now. The Yankees have plenty of competition because reports indicate several teams have interest in Morse, but I feel they have the pieces to get a deal done. It's just a question of whether they're willing to pull the trigger to acquire a player who fits their needs very well.