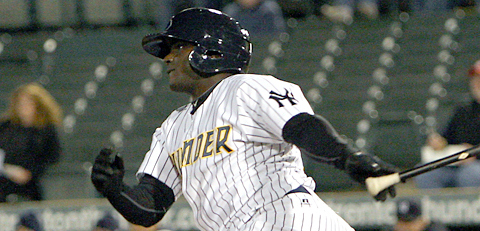 The bench, particularly a right-handed hitting outfielder, and the DH spot have been the Yankees' primary areas of focus these last few weeks and that will probably continue until pitchers and catchers report in five weeks. The free agent market still has several DH-type players available and the club does have Matt Diaz, Russ Canzler, and Melky Mesa in-house as candidates for that right-handed outfield bat role. They also have a fourth internal option in Ronnie Mustelier, who Michael Eder at The Yankee Analysts wrote about this week and a number of people have emailed me about these last few months. I figured it was time to chime in.
First things first, we have to understand that we know very little about Mustelier. We do know that he defected from Cuba in late-2009 and signed with the Yankees in June 2011 thanks to Matt Eddy at Baseball America. We also know that he turned 28 this past August, hit .301/.407/.517 in Cuba from 2007-2009, and is a career .324/.378/.497 hitter across four minor league levels because that's what Baseball–Reference tells us. He doesn't have a platoon split according to Minor League Central, and his overall strikeout rate (13.0%) is pretty great in 656 minor league plate appearances. We have to remember that he was old for every level, however. Mustelier's a right-handed hitter who has played second and third bases as well as both outfield corners since signing with New York. The vast majority of his 2012 season was spent in left. If MiLB.com's bio information is to be trusted, we also know he's a little portly at 5-foot-10 and 210 lbs.
That's pretty much it. The closest thing we have to an actually scouting report on Mustelier is this collection of quotes from VP of Baseball Ops Mark Newman back in early-October (Baseball America subs. req'd)…
"He has a very short stroke and pretty good balance … He strikes out once in every seven at-bats. His walks are below-average but he puts the ball in play … He played third, second, left and right … We are trying to find out where his best defensive position is and what our needs are … He can run and cover ground … He can also play right. He improved defensively over the course of the season."
Within that same link we learn the Yankees signed Mustelier for just $50k, a pittance compared to most Cuban defectors. You have to take an organization's quotes on its own players with a big grain of salt because of course they're going to talk the guy up. Newman's stuff on Mustelier isn't outrageous though, it's not like he called him a plus defender with elite bat speed or something. That would have been a little weird given the modest signing bonus, which indicates little interest from around the league.
Baseball America's John Manuel offered up his take on Mustelier during the publication's Top 20 Triple-A International League Prospects chat back in early-October (subs. req'd)…
I see him as a player for a potential Cuban ex-pat team in the WBC. I do not see him as an MLB option. Guys like Mustelier and Barbaro Canizares and Leslie Anderson and other Cuban ex-pats can make a good living in professional baseball outside of the major leagues, but he doesn't strike me as a player with a position outside of the batter's box. He does have bat speed and he can hit a good fastball. Maybe that gets him a chance.
So that's pretty much it. Those last few paragraphs are basically all we know about Mustelier at this point. He's performed very well since signing but has been old for the level each time. He offers some defensive versatility, but he probably fits best in left field based on how the organization used him. The fact that the Yankees did not stick Mustelier back at third base — they did move David Adams over to third, remember — following Alex Rodriguez's hand injury in the second half tells me they don't think he can handle the position in the big leagues, even on a temporary basis. It's not like the team had a real prospect at the hot corner in Triple-A at the time, it was basically Brandon Laird and Kevin Russo. Actions always speak louder than words.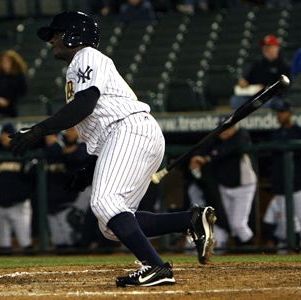 Now, that said, the Yankees should obviously give Mustelier a long look in Spring Training in a few weeks. He received all of two plate appearances in big league camp last year, one fewer than Austin Krum and half as many as Walt Ibarra. Mustelier just wrapped up a strong winter ball showing — .284/.345/.471 with nine homers and nine steals in 55 games down in Mexico — and finished the 2012 calendar year with a combined .304/.364/.482 batting line in over 700 plate appearances in three different leagues (Double-A, Triple-A, winter ball). When a guy that close to the big leagues hits like that, he deserves a look in camp. I definitely expect the Yankees to invite him to Major League Spring Training, for what it's worth.
At the same time, a guy like Mustelier should not stop the team from pursuing solutions for those openings on the bench and at DH. It obviously hasn't given the Matt Diaz and Russ Canzler pickups, but I'm talking about legitimate upgrades like Mike Morse or Scott Hairston. The Yankees should give him a look in camp to see what he can do, maybe he lost some weight and improved defensively during the offseason and made himself a viable option at second and third bases. Who knows. He's earned the look though. Mustelier is not on the 40-man roster right now and the club won't have to add him for another few years, so there's no pressing roster issue that will force their hand. At the moment, Mustelier is an intriguing Plan B or C to keep in the minors. I wouldn't want him to be Plan A for anything heading into 2013.
Aside: For what it's worth, SG's extremely early CAIRO projections have Mustelier as a .268/.321/.420 hitter in the big leagues next season. That's really good for a bench player but not for a DH, which is where he's slotted into the lineup in the projections.