It's a Tuesday and I'm sick, so here are some random thoughts…
1. Depending on who you ask, the Yankees either did (Ken Rosenthal) or did not (Jon Heyman) extend an offer to Lance Berkman before he signed with the Rangers. Rosenthal hedges his bet a bit, so I'm guessing they didn't make an offer despite showing interest. Berkman was, by far, the best pure hitter on the DH market when you consider the ability to hit for average, get on base, and hit for power, though he was also a tremendous health risk. The DH position is a weird spot for the Yankees because they really need a legit bat there despite also having the need to use it as a resting place for older regulars. They need more than a league average hitter or some random power-only old guy willing to take a six-figure contract because they lost a lot of offense in right field and behind the plate. Berkman is a potential impact hitter and I don't see another one of those guys out there. Maybe the team is biding its time until the Nationals re-sign Adam LaRoche so they could swoop in with a trade offer for Mike Morse? That'd be neat.
2. The more I think about, the more I think it's inevitable Chris Stewart will be the primary catcher to open the season. The Yankees obviously like him more than Frankie Cervelli, otherwise they wouldn't have traded a useful reliever (George Kontos) to acquire him and send Cervelli to the traveling circus in Triple-A. We also know they've tried to unload Cervelli in the past, most notably on the Pirates back in 2011. The various catcher defense rankings (2011, 2012) say Stewart is an average to above-average defensive catcher, but he obviously can't hit a lick. It's not often a team gets to the World Series with a below-average catcher these days, nevermind actually win the whole thing. I am wholly unprepared for the Chris Stewart, Starting Catcher era. This really sucks.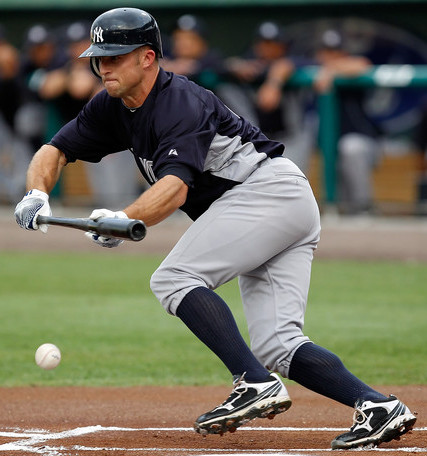 3. You know what has been flying under the radar these last few months? Getting Brett Gardner back in the outfield on an everyday basis next season. It's was painfully obvious the Yankees missed his speed prior to the Ichiro Suzuki trade last year, and his ability to work the count (career 4.29 pitches per plate appearance, which is elite) and simply get on-base (career .355 OBP) will be greatly appreciated at the bottom of the lineup. Add in his stellar defense — I do think they'll move him to center next season, by the way — and it's a pretty significant upgrade over the guys the club used in his place last summer. Don't get me wrong, Gardner is no star, but he's the upgrade no one is talking about just because he's been here the whole time.
4. I do believe in the idea of the "contract year," but there's more to it than "he's trying harder because he wants to get paid." That part is true to a certain extent because I've lived through it. I know I'm not the only one who work extra hard in the weeks leading up to the annual performance review. "Contract years" also have a lot to do with timing, since many players qualify for free agency as they're reaching their prime (late-20s/early-30s). The Yankees will have a ton of these guys on the roster next season, most notably Robinson Cano, Phil Hughes, Joba Chamberlain, and Boone Logan. Curtis Granderson will turn 32 in a few weeks and is right on that prime years bubble while Hiroki Kuroda, Andy Pettitte, Mariano Rivera, and Kevin Youkilis are well passed it. Wouldn't it be pretty awesome if Cano and Hughes (and to a lesser extent, Joba and Logan) had huge contract years? Forget about the impact on the team's chances, it would just be fun to watch those two have huge seasons (175 wRC+ and a sub-3.00 FIP, respectively?).