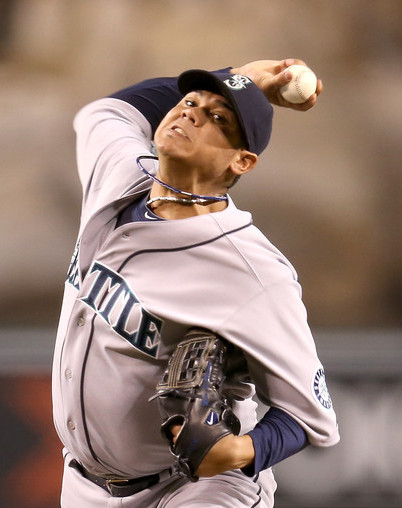 After a slight elbow-related speed bump, Felix Hernandez and the Mariners finalized their landmark seven-year, $175M contract extension earlier this week. It is the largest pitching contract in history, both in terms of total value — surpassing CC Sabathia's $161M commitment — and average annual value. Felix is young, durable, elite, and certainly worthy of the largest pitching contract the world has ever seen, but don't expect that record to last very long.
At some point in the next nine months or so, the Cardinals will likely sign Adam Wainwright to a long-term contract extension to make sure he doesn't become a free agent after the season. Wainwright is excellent but don't count on him surpassing Felix's contract — he's several years older with a major arm injury (Tommy John surgery) in the not-too-distant past. Then, at some point in the next 21 months or so, the Tigers and Dodgers will — I'm comfortable leaving out the "likely" here — sign Justin Verlander and Clayton Kershaw, respectively, to mammoth contract extensions. Those two, particularly Kershaw, have a very real chance of getting a larger deal than Hernandez.
The number of ace-caliber pitchers hitting the open market continues to dwindle — the last legitimate, inarguable ace to be a true free agent was Cliff Lee three winters ago — as teams become more progressive and sign their players to extensions early in their careers. That wasn't always possible because of market sizes, but fat new television contracts — both local and national — and revenue sharing and all sorts of other stuff are giving clubs a means to keep their stars. Baseball has intentionally leveled the playing field, at least somewhat.
That's a problem for the Yankees. Their advantage has always been the ability to outspend literally every other team, but that ability is dwindling in two directions — other teams have more money to spend and the Yankees are scaling back payroll. Not only are fewer ace-caliber pitchers hitting the market in general, but the competition to sign them is much greater. The days of a signing like Mike Mussina, who New York landed with little competition during the 2000-2001 offseason, are a thing of the past.
The Yankees are not oblivious to this, which is why they made the Michael Pineda trade last winter. Pineda, who turned 23 a week after the trade, was far from an established ace, but he had an above-average big league season under his belt and the tools — specifically a mid-90s fastball and a wipeout slider, both of which missed bats — to be an ace down the line. Signing an ace is becoming harder to do and the Yankees have had no success growing their own ace, so they traded for someone else's developing ace. That trade, obviously, has been an unmitigated disaster thus far. That doesn't mean the idea was wrong (I preferred keeping Jesus Montero, for what it's worth).
If there is an ace coming in New York's farm system, a) I don't see him, and b) he's not coming anytime soon. With Verlander, Wainwright, and Kershaw bound to get locked up in the near future, the only two ace-caliber pitchers scheduled to hit free agency in the next two offseasons are Tim Lincecum and Josh Johnson, both of whom carry significant question marks (poor performance and injury, respectively) right now and will be free agents next winter. David Price will be a free agent following the 2015 season, but of course he could will get traded before then and his new team might lock him up long-term before he hits the market.
The Yankees have done a pretty swell job of filling out their rotation with veteran stopgaps on one-year contracts, and that looks like something they'll have to continue doing for the next few years. It will be harder to do with payroll coming down, but Pineda or Ivan Nova or David Phelps or even Brett Marshall could step forward to seize one rotation spot and make life a little easier. Baseball is flush with cash these days and fewer top pitchers are becoming available, which is a big problem for New York going forward. They either have to start developing their own above-average pitchers or develop enough prospects to trade for pitching and hope they work out better than Pineda has.