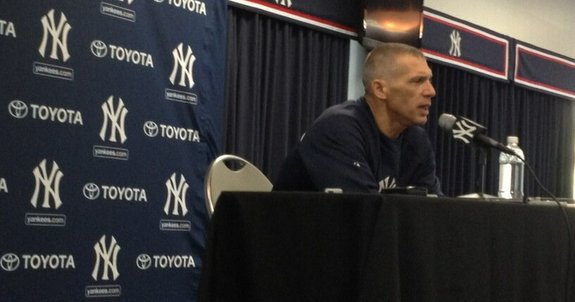 Pitchers and catchers reported to Tampa today, and Joe Girardi held his annual start-of-spring press conference this morning. The biggest news concerned (who else?) Alex Rodriguez, who will not join the team in camp and will instead rehab his hip in New York. Other than that, the press conference was pretty standard stuff. Here's a recap of the session, which was partially streamed on ESPN and covered by the usual suspects: Mark Feinsand, Chad Jennings, Dan Barbarisi, Bryan Hoch, Jack Curry, and others.
On position players and the offense
If the season started today, Brett Gardner would be in left field and Curtis Granderson would be in center. The team will discuss flipping the two, but Girardi said "right now there's no plans to do anything." If they do decide to make the switch, they'll try it out early in camp first.
Girardi said one of his biggest concerns in camp is finding a right-handed bat to complement their all-lefty outfield as well as the DH spot. Juan Rivera and Matt Diaz appear to be the two leading candidates for the job and will compete in camp.
It sounds like Austin Romine is on the outside looking in as far as the catching competition goes, at least right now. "He still has an opportunity here," said Girardi.
"Our offense is going to be different, but I believe we're going to score runs … We're going to have to find different ways to score runs," said the skipper when asked how the team would replace the power lost when Nick Swisher, Russell Martin, and others signed elsewhere.
Girardi doesn't have a set lineup in mind at the moment. I think we all have a general idea of who will bat towards the top of the order, who will bat in the middle, and who will fill out the bottom anyway.
On players coming off injury
Girardi said there is some concern about Derek Jeter and Mariano Rivera as they come off ankle and knee surgery, respectively. He expects both to be ready for Opening Day, however. The Cap'n ran for the first time yesterday.
As for Michael Pineda — who did throw off a full mound today — Girardi said he's "still in the early stages (of rehab) … we're happy with the way he's progressing." Don't expect to see the right-hander in a Spring Training game.
Miscellany
"I don't worry about where I'm going to be next year," said Girardi about his contract, which expires after the season. "I'm worried about the next 162 games and getting to the playoffs and getting to the World Series. That's my concern. That's what I worry about."
Girardi, always the optimist, said "this team could win 95 games and get to the World Series (because) there's a lot of talent in this room … If we play up to our capabilities, I believe we're a very good team." He is right, you know.