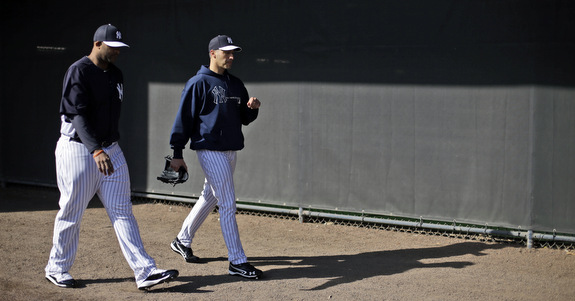 The latest from Tampa…
CC Sabathia threw off a mound for the first time since having a bone spur removed from his left elbow in October. "I immediately felt good and felt comfortable after the first couple of pitches," he said. Sabathia threw 29 pitches — all fastballs and changeups — and will throw against on Tuesday. He will not make a start the first time through the rotation once Grapefruit league games begin next weekend, however. [Wally Matthews & Jack Curry]
Mariano Rivera also threw roughly 30 pitches in the bullpen. His surgically repaired right knee feels fine while pitching, though he still needs to test it in fielding drills. [Chad Jennings & Curry]
Bryan Hoch has the rest of the day's bullpen and batting practice assignments. David Phelps faced hitters again while Andy Pettitte, Phil Hughes, Hiroki Kuroda, David Robertson, David Aardsma, and Clay Rapada joined Sabathia and Rivera as projected big leaguers to throw bullpens.
Just as a reminder, position players are due to report on Sunday. They'll all take their physicals tomorrow before the team has their first full squad workout on Monday. The first exhibition game will be played one week from today.
Here is your open thread for the evening. The Devils and Islanders are playing (each other!) while there are various NBA All-Star festivities taking place. Talk about that stuff or anything else here. Go nuts.