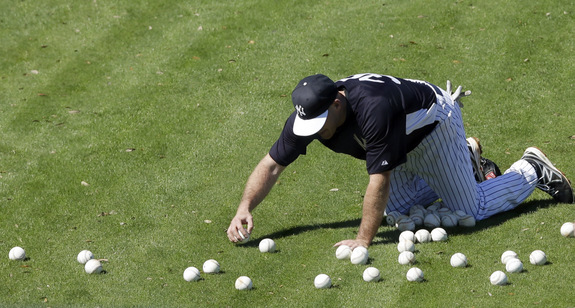 Notes from Tampa…
Chad Jennings has the day's batting practice, fielding drill, and bullpen assignments. Everyone hit while CC Sabathia, Andy Pettitte, David Aardsma, Mariano Rivera, and Clay Rapada were the projected big leaguers to throw on the side. Dan Johnson worked out at third base as he attempts to win a bench job, essentially the Eric Chavez role.
Within the same piece, Jennings notes that Mark Teixeira is leaving the Yankees to join Team USA for the World Baseball Classic on March 3rd. He'll play in a handful of Spring Training games first. Robinson Cano is likely to leave for Team Dominican Republic around the same time.
David Phelps threw roughly two innings in a simulated game — Ronnie Mustelier nearly hit him with a comebacker — and will start Saturday's exhibition season opener. David Robertson also faced hitters in live batting practice. [Bryan Hoch]
Top bullpen prospect Mark Montgomery (back strain) played catch and will probably get back up on a mound later this week. [Jennings]
In case you missed it earlier, Phil Hughes will miss a few days with some upper back stiffness.
Here is your open thread for the night. The Rangers, Islanders, and Nets are all playing, so talk about any of those games or anything else that's on your mind right here. Enjoy.