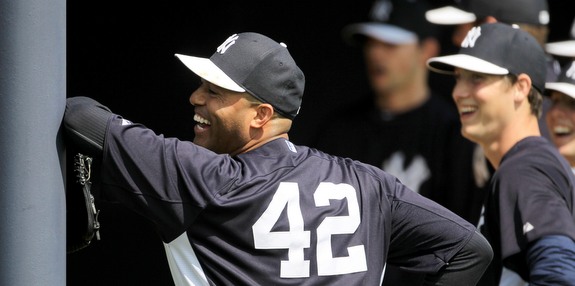 After two weeks of workouts, the Yankees will play their first Spring Training game tomorrow afternoon. Oh happy day. Here are Friday's notes from Tampa…
Mariano Rivera faced hitters for the first time since injuring his knee last May. He threw 20 pitches in a live batting practice session and everything went well. "It feels good, real good," he said afterwards while acknowledging the need for "one or two more BPs" before appearing in a game. [Jack Curry, Jayson Stark & Adam Berry]
CC Sabathia threw his third bullpen session of the spring following offseason elbow surgery. He threw 40 pitches and said he "felt good … no problems." [Erik Boland]
Derek Jeter has continued to ramp up his workouts and hasn't had any trouble with his surgically repaired left ankle. "I've been stepping it (up) every day," he said. "Every day I do more and more." [Joel Sherman]
Chad Jennings has the day's batting practice and bullpen assignments. David Robertson, Andy Pettitte, Clay Rapada, and David Aardsma were the projected big leaguers to face hitters in addition to Rivera while Ivan Nova joined Sabathia in the bullpen. Everyone hit as far as I can tell.
Mark Montgomery (back sprain) threw in the bullpen without incident. He feels fine and will face hitters on Sunday. Phil Hughes (bulging disk), meanwhile, called his progress "significant." [Jennings]
The Yankees announced their travel roster for tomorrow's Grapefruit League opener, which will not be televised. Mark Teixeira, Robinson Cano, Eduardo Nunez, Frankie Cervelli, Austin Romine, Dan Johnson, Melky Mesa, Slade Heathcott, Tyler Austin, Corban Joseph, Juan Rivera, and starter David Phelps are among those who will make the trip to Lake Buena Vista to face the Braves.
Switch-pitcher Pat Venditte will pitch for Team Italy in the World Baseball Classic, but his father confirmed he will only pitch left-handed. Venditte is still rehabbing from right labrum surgery and hasn't been cleared to throw off a mound with that arm yet.
Here is your open thread for the night. The Knicks and Nets are playing, so talk about those games or anything else here. Enjoy.