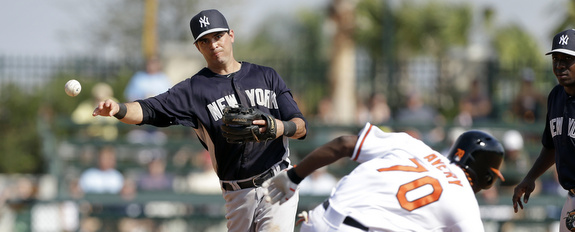 The Yankees lost to the Orioles this afternoon in a generally uneventful contest. Brett Gardner was the headliner for New York, going 3-for-3 with a bunt single. He slid head-first into first base in his first at-bat of the day, roughly 24 hours after Curtis Granderson fractured his forearm. Hopefully someone smacks some sense into him. No need to do that in February, especially after your 40-homer teammate got hurt.
Anyway, Jayson Nix had a pair of knocks behind Gardner and that's pretty much it. Frankie Cervelli went hitless in three at-bats and was the only other projected big leaguer to play. The good news is that no one else got hurt today, thankfully. Here is the box score and here are my Corey Black .GIFs from earlier. As for the rest of the day's news from Tampa…
CC Sabathia (elbow) faced hitters in live batting practice and started throwing sliders, which is a big step following his surgery. "It was fine," said the left-hander afterwards. He'll do it again in two days. [George King]
Mariano Rivera (knee) threw 32 pitches in his second round of live batting practice, saying everything went well afterwards. A simulated game could be he next step. [Meredith Marakovits]
Chad Jennings has the rest of the day's workout assignments. Ivan Nova, David Aardsma, and Clay Rapada also threw live batting practice while David Phelps threw in a bullpen. Phil Hughes (bulging disk) did some light work in a pool and will go for a checkup on Wednesday.
No surprise here, but Joe Girardi said it is "fair to assume" Tyler Austin and Slade Heathcott are not in the outfield mix despite Granderson's injury. [Andy McCullough]
Joba Chamberlain, David Robertson, Robinson Cano, Mark Teixeira, Travis Hafner, Eduardo Nunez, and Kevin Youkilis are on the travel roster for tomorrow's game against the Phillies in Clearwater. Right-hander Jose Ramirez gets the start. That game will air on MLB.tv but not YES.
Here is your open thread for the night. None of the basketball or hockey locals are in action, but MLB Network will air a pair of Spring Training game, so hooray for that. Who you see depends on where you live. Talk about that stuff or anything else here. Go nuts.