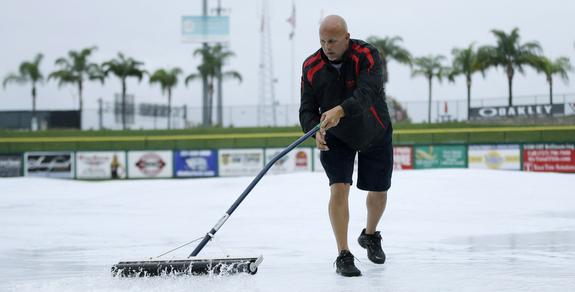 The Yankees lost to the Phillies this afternoon, their third consecutive defeat in Grapefruit League play. Ichiro Suzuki went 3-for-3 with a stolen base while Mark Teixeira (double), Travis Hafner (single), and Matt Diaz (single) all had one knock apiece. David Robertson and Joba Chamberlain both make their Spring Training debuts with relatively uneventful (and scoreless!) innings.
The MVP of the day was catcher J.R. Murphy, who came off the bench to hit a two-run homer to dead center and then a double off the wall in almost the exact same spot. On the other hand, right-hander Zach Nuding gets LVP honors by allowing two dingers — including this monster shot by Domonic Brown — and three runs in an inning of work. Oh well, shake it off. It's only February. Here's the box score and here's the rest from Tampa…
Here is your open thread for the evening. The Rangers, Islanders, and Nets are all playing tonight, so talk about those games or anything else here. Enjoy.