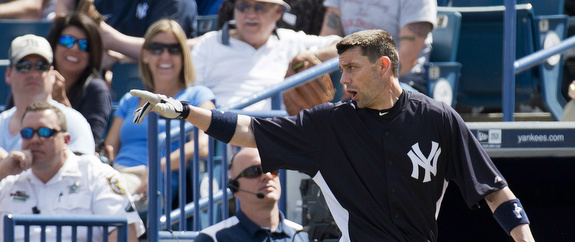 Bad news: the Yankees lost to the Blue Jays earlier today, their fifth consecutive Grapefruit League loss. More bad news: about an hour later, they lost to the Astros to make it six straight losses. The home loss to Toronto featured two hits by Juan Rivera (single and double) and singles from Ichiro Suzuki and Mark Teixeira. David Phelps was the star of the day, throwing three scoreless innings. He had to go to the bullpen afterwards to make sure he reached his pitch count.
The minor leaguer-laden road squad in Kissimmee blew a four-run lead thanks to a grand slam from former Yankee Brandon Laird. Shane Greene served that one up. Zoilo Almonte and Melky Mesa had two hits apiece, including a three-run homer for Melky2.0. Eduardo Nunez beat out an infield single and pulled the first baseman off the bag with an errant throw. What else is new. Frankie Cervelli threw out a pair of attempted base-stealers and is 4-for-5 in throwing out runners this spring. His throwing has been really, really good so far. Here's are the box scores (home game, road game) and here is the rest from Tampa…
Here is tonight's open thread. All three hockey locals are in action plus MLB Network will air a Spring Training game as well. Talk about any of those games or anything else here. Have at it.