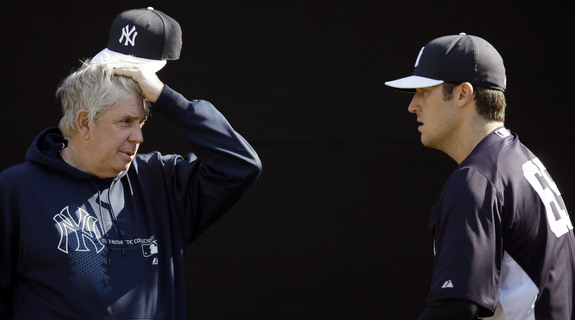 The Yankees are still two days away from playing their first exhibition game of the spring, but they've already suffered their first pitching injury of the year. Phil Hughes managed to suffer a bulging disk in his mid-upper back during a routine fielding drill earlier this week, an injury that will keep him on anti-inflammatory medication and off the field for at least five days. The always conservative Brian Cashman was thinking more like two weeks.
"The doctor clearly isn't aggressively treating it and that's a good sign," said the GM to Chad Jennings. "But there's no guarantees until we get through the two-week process, and we see where he's at and he's back on the mound and stuff like that … I could stand here and say, 'Yeah, we're excited thankfully it's a low-level situation and blah blah blah,' but I think we need to really get through this stuff and see that it responds that way. So it's a question mark until we can all forget about that it ever happened."
Since it is still only February, the Yankees are sure to play it safe with their number four starter. For what it's worth, Joe Girardi told Mark Feinsand that he doesn't expect the injury to impact Hughes' status for the start of the season, saying "he's a little bit ahead of where he'd normally be … If you're going to get a break, I'd rather it be early in Spring Training because I think you can make up a little bit of time now more than later, but we'll see."
Although I'm hopeful the back injury isn't anything serious, it is a harsh reminder of the importance of depth. Baseball isn't a 25-man game anymore, teams need those useful pieces in Triple-A to cover for injury and ineffectiveness, especially in the ultra-competitive AL East. The Yankees have a number of older players who are either coming off injury (CC Sabathia, Mariano Rivera, Derek Jeter, eventually Alex Rodriguez) or are just injury prone (Travis Hafner, Kevin Youkilis), so that depth will be extra important for them. Hughes is no stranger to the DL himself, and seeing the 26-year-old starter get hurt before games even begin is discouraging.
"I don't think you really know how good your depth is until you get tested," said Girardi to Jennings. "And then, once you go through what we went through last year, we found out it was pretty good. But until you go through it, and you have to run guys out there every day — a lot more than they're supposed to — you don't really know how good it is … There's less experience there."
Girardi said it perfectly, teams don't find out how good their depth is until they have to use it. Cases in which a club has an established big leaguer stashed (and healthy!) in Triple-A are rare — think the Nationals and John Lannan last year — so most depth pieces are prospects or guys on prove-yourself minor league contracts. Guys like Jayson Nix and Dewayne Wise last summer, for example. Prospects and fringy big leaguers tend to be hit-or-miss, they either exceed expectations or have their clubs scrambling for a replacement. It's a mystery until they're called upon.
Despite having Adam Warren and Brett Marshall slated for the Scranton rotation, the Yankees are still looking for a veteran starter to stash in Triple-A. Because these depth pieces tend to be a mystery, the best thing to do is stockpile options and hope for the best. Pitchers with big arms and position players who do at least one and preferably two things — hit for power, play defense, run, etc. — well are the standard fodder. For the Yankees, that means guys like Warren, Marshall, Shawn Kelley, Cody Eppley, Corban Joseph, Dan Johnson, Melky Mesa, maybe Ronnie Mustelier, and maybe David Adams if he stays healthy. No sure things but the potential to be helpful. Again, a mystery until called upon.
I feel like I preach the value of depth several times every year, but that's only because I think it's so important. Cashman & Co. appear to have realized this in recent years and have done a much better job of stockpiling miscellaneous pieces — it's been a long time since they had to scramble for a replacement a la Shawn Chacon, Tim Redding, and Raul Mondesi. That depth will be extra important in 2013 given the big league roster construction and the expected tougher-than-usual AL East. When so many clubs are bunched close together, the team that gets the most production from their spare parts will have the best chance of coming out ahead.