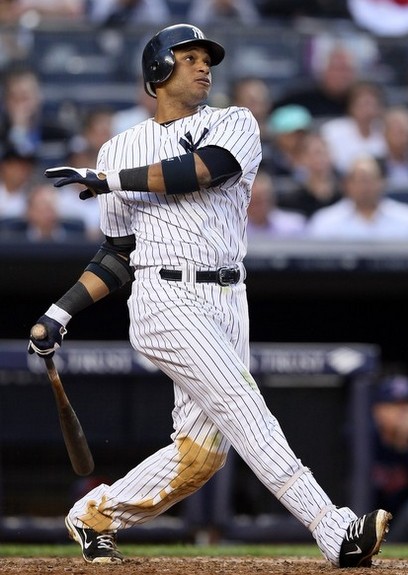 Once upon a time, I thought Jose Reyes would tell us something about what it could take to sign Robinson Cano long-term. Both guys were great middle infielders playing for New York teams in their late-20s, so when Reyes hit the open market I figured it would give us a benchmark for Cano. Reyes, as you know, signed a six-year contract worth $106M with the Marlins last year. I was dead wrong. That won't be nearly enough to keep Cano.
For starters, Robbie is just a flat-out better player than Reyes. Don't get me wrong, Reyes is no slouch, but Cano has been more productive in the years leading up to his free agency. More importantly, he's been far more durable. Reyes has a history of hamstring trouble — not exactly ideal for a speed player — including two DL stints in his walk year. Robbie could easily visit the DL this summer, but it would be a surprise given his supreme durability over the last six seasons.
As it stands right now, Cano is going to smash the current second base contract records. His new deal with blow past Chase Utley's record for total guarantee ($85M) and Ian Kinsler's record for average annual value ($15M). I mean, those won't even be close to what Cano will get. He poised to receive a nine-figure deal with Scott Boras running the show, and nine-figure deals tend to have an average value north of $20M annually.
I wrote about Cano's impending free agency earlier this week, but I want to get an idea of what fans are willing to pay him. For the sake of argument, let's assume his 2013 production is on par with his 2010-2012 production. Let's also assume that last year's struggles against southpaws were a fluke and he gets back to mashing lefties like he had every other year of his career. I picked out four recently signed free agent contracts to serve as reference points.
Seven years, $142 M ($20.3M AAV)
This is the Carl Crawford contract, something that has gone horribly wrong so far. Crawford was only 29 at the time of the signing though, and he'd hit .300+ with 40+ steals in five of the previous six seasons. The lone exception was 2008, when he missed a bunch of time with a wrist problem. He was also an elite defensive player. Crawford was held back by his position, as left field is hardly a premium spot.
Eight years, $160M ($20M AAV)
This one isn't all that recent, it's the Manny Ramirez contract. Matt Kemp signed for the exact same amount last winter, but that was an extension. He almost certainly would have gotten more as a free agent. Either way, I wanted something here longer than Crawford's contract but on par with the annual payout. Manny it is.
Eight years, $180M ($22.5M AAV)
I'm guessing this looks familiar, it's Mark Teixeira's contract. Tex signed his deal at 28 but turned 29 before Opening Day, and like Cano he had been extremely durable and productive leading up to free agency. It's easy to forget how much of a monster he was back in the day, but Teixeira was a lock for a .290/.370/.550-ish batting line with 30+ homers and 150+ games played every year before joining New York. He's also an elite defender, but like Crawford an elite defender at a non-premium position.
Nine years, $214M ($23.8 AAV)
Boras managed to land this contract for Prince Fielder last winter, from a team that already had a pretty awesome first baseman no less. Fielder was only 27 at the time of the deal, so three years younger than Robbie will be next winter. He was both insanely productive and durable in the years leading up to free agency, I'm talking 155+ games a year every year. Prince doesn't get enough credit for playing every day. His offense is needed to offset his defense, which is below-average at a corner spot.
* * *
The only two ten-year contracts given to free agents in recent years were the Alex Rodriguez and Albert Pujols deals. Cano is great, but he's not in a class with those two. At least not compared to who they were when they signed those contracts. I feel comfortable saying Fielder's contract is the likely cap for Robbie next winter, though I suppose the new cash-flush market and free-spending Dodgers could change that.
What's the largest contract you would give Cano after the season?