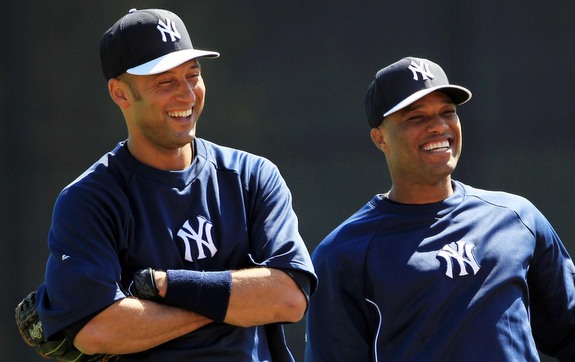 Over the last few weeks, I've been going back and forth with one-time RABer Moshe Mandel about Robinson Cano's impending free agency. We've debated almost everything, from whether they should re-sign him to how much is too much, and all sorts of stuff in between. I'm guessing we'll discuss it a few more times between now and November.
Anyway, during one of our recent friendly debates we got into talking about what a potential mega-contract for Cano would mean for the farm system, specifically the need to produce quality big leaguers. Obviously it's important for every team to have a productive farm system, but factors at the big league level impact just how important it is. For total rebuilders like the Astros and Cubs, the farm system is very important. For clear contenders like the Nationals and Tigers, they aren't as crucial.
The Yankees are much closer to clear contender than total rebuilder, but the plan to get under the $189M luxury tax threshold by next year means some level of rebuilding is on order. The club will need to develop a few productive players of their own, but how a new contract by Cano impacts that need is up for debate.
The case that re-signing Cano means they'll need more from the farm system
The exact amount is still far from determined, but it's safe to say Robbie's next contract will be worth more than $20M annually. Add in existing commitments to Alex Rodriguez ($27.5M), CC Sabathia ($24.4M), and Mark Teixeira ($22.5M), and the Yankees are going to leave themselves with something like $90M to fill out the rest of the roster. With three starting pitchers, one outfielder, and at least three relievers scheduled to hit free agency next winter, the Yankees will need their farm to plug some holes on the cheap. On the other hand, they won't be desperate for a homegrown impact hitter because Cano will still be around.
The case that letting Cano walk means they'll need more from the farm system
If the Yankees are unable to retain their second baseman, they'll have approximately $110M in wiggle room under the luxury tax threshold going forward. They'll have those same holes — three starters, three relievers, one outfielder — to fill plus the second base spot, and it'll be tough to plug all those holes with free agents. The Yankees would need their system to produce an impact middle of the order bat in very near future plus other useful pieces to shore up the roster. They'd have more money to spend, but also a much bigger hole to fill in the lineup.
* * *
As I said before, the Yankees are going to need to farm system to start cranking out capable big leaguers regardless of what happens with Cano. They can thank their self-imposed payroll cap for that. Is the farm system more important with or without Cano? Moshe and I haven't been able to agree about that, so let's bust out the ol' RAB pollin' machine.
The farm system will be more important if...