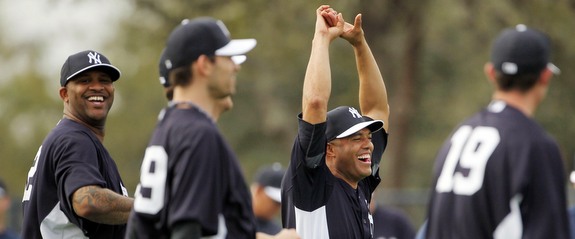 February 22nd: The MLB.tv schedule is out, and at this point it's easier to list the games that won't be broadcast than the ones that will. In addition to tomorrow's Grapefruit League opener, the games of March 7th, 12th, 14th, 17th, 22nd, 23rd, and 28th will not be available anywhere. That's it. Twenty-seven of the 35 Spring Training games will watchable somewhere. That's pretty sweet. The schedule below has been updated (all games are on YES and MLB.tv unless noted) and will be available in the sidebar all spring, within the Opening Day Countdown.
February 14th: Less than ten days from now, Yankees baseball will be on your television. The YES Network released its Spring Training broadcast schedule today, which includes 19 of the team's 35 exhibition games. That's an all-time high and doesn't include ESPN or MLB Network broadcasts, the latter of which has yet to release its schedule. The Yankees will play their first Grapefruit League game next Saturday, but that one won't be on YES because they'll be on the road. The next day's game will be televised, however.
Here's a partial recap of the broadcast schedule since MLB Network's plans are still unavailable. We'll have regular game threads for the broadcasts and even some game chats when the schedule is favorable. All games start between 1-2pm ET and will be on YES, unless otherwise noted…
Sunday, Feb. 24th vs. Blue Jays
Monday, Feb. 25th @ Orioles (MLB.tv only)
Tuesday, Feb. 26th @ Phillies (MLB.tv only)
Wednesday, Feb. 27th vs. Orioles
Thursday, Feb. 28th vs. Blue Jays (split squad)
Thursday, Feb. 28th @ Astros (split squad) (MLB.tv only)
Friday, March 1st vs. Phillies
Saturday, March 2nd vs. Tigers
Sunday, March 3rd @ Red Sox
Tuesday, March 5th vs. Braves (7pm ET)
Wednesday, March 6th vs. Team Dominican Republic
Friday, March 8th @ Marlins (MLB.tv only)
Saturday, March 9th vs. Braves
Sunday, March 10th @ Blue Jays (MLB.tv only)
Monday, March 11th vs. Cardinals (also on ESPN)
Wednesday, March 13th vs. Phillies (7pm ET)
Friday, March 15th vs. Marlins
Saturday, March 16th vs. Phillies (split squad, 12pm ET)
Saturday, March 16th @ Braves (split squad, 5pm ET, MLB.tv only)
Tuesday, March 19th @ Phillies (ESPN and MLB.tv only)
Wednesday, March 20th vs. Red Sox (also on ESPN)
Thursday, March 21st vs. Twins (7pm ET)
Sunday, March 24th vs. Rays
Tuesday, March 26th vs. Astros (7pm ET)
Wednesday, March 27th @ Orioles (7pm ET, MLB.tv only)
Friday, March 29th @ Nationals (in Nationals Park, no MLB.tv)
Saturday, March 30th @ Army (in West Point)
That March 5th game against Robinson Cano and the rest of the Dominican Republic's World Baseball Classic squad should be a lot of fun. Same goes with the Nationals game in Washington and the West Point game. The Yankees will be off on Sunday, March 31st before opening the regular season at home against the Red Sox on Monday, April 1st.