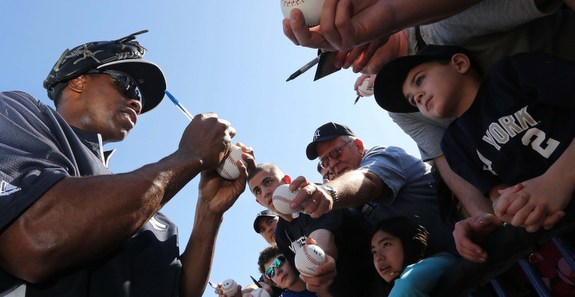 The Yankees are playing their second game of the Grapefruit League season this afternoon, but it will be the first for both Brett Gardner and Curtis Granderson. As expected, Granderson will slide over to left field with Gardner taking over in center as the club looks to shore up its outfield defense. Joe Girardi & Co. have remained adamant that this is nothing more than a Spring Training experiment at the moment, but let's not kid ourselves here. The switch is going to happen barring something completely unforeseen, like injury.
I guess that Gardner-Granderson stuff is the good news. The bad news is the weather, as it rained in Tampa this morning and is expected to do the same this afternoon. Teams don't like to risk injury by running their players out there on wet fields in early-February, so there's at least a small chance today's game will not be played. Hopefully it'll just be a short delay, if anything. I know we're all starved for baseball. Here is the starting lineup…
CF Brett Gardner
RF Ichiro Suzuki
2B Robinson Cano
1B Mark Teixeira
LF Curtis Granderson
3B Kevin Youkilis
DH Travis Hafner
SS Eduardo Nunez
C Chris Stewart
Right-hander Adam Warren is the scheduled starting pitcher. Here are the day's reserves, courtesy of Chad Jennings…
Available Pitchers: RHP Cody Eppley, RHP Matt Daley, LHP Francisco Rondon, RHP Preston Claiborne, LHP Juan Cedeno, and RHP Jim Miller will follow Warren. RHP Corey Black, RHP Bryan Mitchell, and RHP Shane Greene are available if needed.
Available Position Players: C Bobby Wilson, 1B Addison Maruszak, 2B Jayson Nix, SS Cito Culver, 3B Rob Segedin, LF Ronnie Mustelier, CF Adonis Garcia, RF Thomas Neal, and DH Gary Sanchez will all come off the bench in the middle innings.
Today's game is scheduled to begin at 1:05pm ET, but again, the weather. The game will be broadcast on YES locally and MLB.tv all over the place, the blackout restrictions do not apply. At least I don't think they do since I was able to watch the Mets on my computer yesterday. Hopefully that's the case so I can .GIF anything interesting. Enjoy the game if they play, baseball's back.