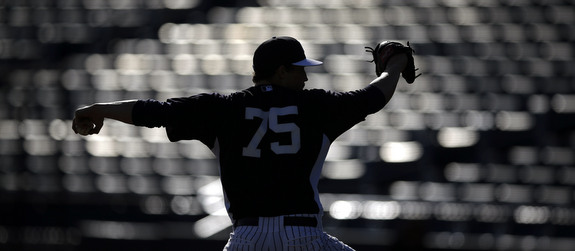 Left-hander Nik Turley — number 11 on my preseason top 30 prospects list — gets the start for the Yankees against the Orioles at GMS Field this afternoon. The big southpaw has been getting slapped with the "next Andy Pettitte" tag for a few years now, but it's a) inaccurate, b) completely unfair, and c) a convenient game thread topic. Pettitte was a big league rotation mainstay when he was Turley's age (23) and he also threw quite a bit harder. It might be more accurate to say he's the "next age 35-40 Pettitte" because he's nothing like the young Andy.
That doesn't make Turley a bad prospect though, not at all. He's a true three-pitch pitcher who can use either his fastball, curveball, and changeup in any count, and not many 23-year-olds can do that. I'm not sure if we'll see all three pitches today since it's only his first outing of the spring, but I guess we'll find out. Without looking through all the rosters, I'm guessing Turley is the only 50th round draft pick currently on a 40-man roster, which speaks to his development as a prospect. He'll made his Grapefruit League debut today and if all goes well, he'll be a big league option sometime in 2014. Here's the lineup…
LF Brett Gardner
SS Jayson Nix
2B Robinson Cano
DH Juan Rivera
1B Dan Johnson
RF Zoilo Almonte
CF Slade Heathcott — fun!
C Chris Stewart
3B Corban Joseph — slightly less fun!
And on the mound is Turley, the big lefty from Southern California. Here is the day's second string, courtesy of Byran Hoch and Chad Jennings.
Available Pitchers: RHP Matt Daley, RHP Preston Claiborne, LHP Josh Spence, RHP Cody Eppley, RHP Mark Montgomery, and RHP Tommy Kahnle are all scheduled to pitch.
Available Position Players: C Frankie Cervelli, 1B Kyle Roller, 2B Jose Pirela, SS Cito Culver, 3B Walt Ibarra, LF Ramon Flores, CF Adonis Garcia, RF Tyler Austin, and DH Kyle Higashioka will all come off the bench.
This afternoon's game is scheduled to begin at 1:05pm ET and can be seen on YES and MLB.tv (no blackout restrictions). Enjoy.