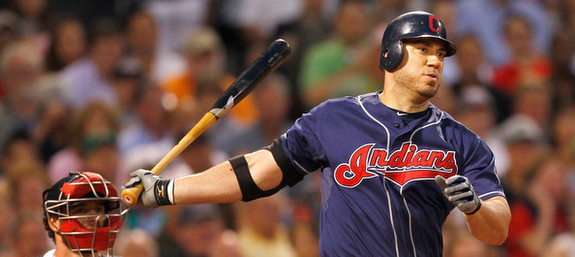 There's no question the Yankees downgraded their offense this winter, specifically in right field and behind the plate. They did upgrade the left-handed half of the DH platoon though, at least in theory. Raul Ibanez's super-clutch late-season homers made it easy to forget he hit .202/.281/.359 for nearly 300 plate appearances (292, to be exact) from mid-May through mid-September and was in danger of being left off the postseason roster. We all love Raul, but he had to be replaced.
The replacement the Bombers brought in is long-time Indian Travis Hafner, who signed a one-year deal worth $2M guaranteed earlier this month. Joe Girardi confirmed last week that Hafner will be the team's primary DH against right-handers and nothing else — "He's a DH … that's the plan," said the skipper flatly — a role for which he is well-suited. The 35-year-old hit .241/.361/.437 (123 wRC+) against righties last season and .278/.385/.470 (136 wRC+) over the last three years, but he's not completely useless against southpaws either (92 wRC+ since 2010). A lefty specialist in the late innings shouldn't result in an automatic out like it did with Ibanez.
Brian Cashman used the term "big, hairy monster" this offseason to describe the type of hitters he prefers, and Hafner pretty clearly fits the mold. For one, he's a pretty big dude — the team's official site lists him at 6-foot-3 and 240 lbs. — with broad shoulders and scary-looking biceps and forearms. Two, his menacing batting stance …
… looks like something that would say "I'm going to hurt this baseball and kick your dog" to the pitcher if it could talk. It's mean.
Third, he hits the ball a frickin' mile. Hafner's homers have averaged 398.5-ft since 2010 according to Hit Tracker, which is a huge number. Mark Teixeira, who I think we can all agree has big time power and is capable of hitting majestic blasts, has averaged 390.5-ft with his dingers over the last three years. Hafner will get some help from the short porch, but he has a knack for making most parks look small to start with.
Anyway, Hafner is important to the Yankees because he adds some much needed depth to the lineup. He fits in perfectly behind the middle-of-the-order trio of Robinson Cano, Curtis Granderson, and Teixeira, and in fact the best lineup might have Granderson hitting second and Hafner hitting fifth. That's a conversation for another time though. The important thing is that Hafner's on-base ability will help mitigate the loss of Nick Swisher without sacrificing any power production.
Of course, the problem here is that Hafner gets hurt. Like, all the time. He's visited the DL at least twice in each of the last two seasons and at least once in each of the last five. The ailments range from shoulder surgery (2008) to an oblique strain (2011) to knee surgery (2012) to a bulging disc in his back (2012). Despite his defensive and on-base shortcomings, Ibanez always managed to stay on the field (one DL trip since 2004). That's why I said the Yankees upgraded the DH spot in theory before, it's only an upgrade if Hafner avoids the DL.
The Yankees have used a different primary DH in each of the last four seasons, so Hafner will make it five in five years in 2013. He should, at least on a rate base, but the team's most productive DH since Hideki Matsui in 2009, but that's only if he stays healthy. Remember, a player doesn't have to be on the DL for an injury to be a problem either, playing hurt could be more harmful that just sitting out. I'm looking forward to watching Hafner mash some taters this summer, and the Yankees better hope he's out there more often than not.