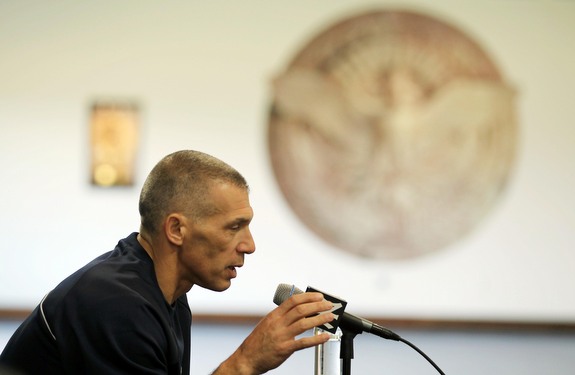 Spring Training is less than a week old, but we've already spent an awful lot of time talking about Robinson Cano's impending free agency. It's going to be a major story from now right up until he signs his new contract, either with the Yankees or another team. We've also talked very briefly about Phil Hughes and Curtis Granderson, two important Yankees who will also become free agents next winter. Joba Chamberlain and Boone Logan have been free agency afterthoughts so far, but they are important pieces of the bullpen.
Those five players do not represent the team's only notable impending free agents, however. Joe Girardi is a lame duck manager at the moment, entering the final year of the three-year contract he signed during the 2010-2011 offseason. It will be his sixth season with the team and his success is undeniable: one World Championship, two other ALCS appearances, three division titles, four postseason berths and four 95+ win seasons. As expected, Girardi has said all the right things and handled his lame duck status well so far.
"My faith is that God is going to put me where he wants me," he said last week. "That's what I believe. I don't worry about where I'm going to be next year. We're probably going to get into this later, so I'll say it, we talk about payroll – I'm not worried about next year's payroll. I'm worried about the next 162 games and getting to the playoffs and getting to the World Series. That's my concern. That's what I worry about. I think in the game of baseball you get a lot of practice only worrying about that day or that year as a player, as a coach, as a manager, because you never know what it's going to be. When I signed, I was called up in 1989 and thought I'd be a Cub the rest of my life. Lo and behold, I was with three other teams, back with the Cubs. I was all over the place. So you get used to not worrying about next year, and I'm not worried about it."
As I wrote in our Season Review, I don't think Girardi had a great year in 2012, at least compared to his first four years on the job. He has his annoying tendencies — specifically ill-timed intentional walks and sacrifice bunts in the early-to-mid-innings — like every other manager, but he typically does a very good job running his bullpen and keeping his older players rested. There haven't been any whispers of clubhouse problems — though the team does go out of the way to acquire good makeup players — over the last five years, so Girardi's clubhouse skills should be considered a plus as well.
Now, that said, big league manager is one of those jobs with a relatively short shelf life. Unless the guy has immediate and unprecedented success like Joe Torre, the odds of him sticking around for 10+ years are tiny. Only eight managers have been with their current team longer than Girardi, and there are more than a few teams who have cycled through multiple managers over the last five seasons. Managers typically lose effectiveness when they've been around too long, mostly because their style becomes routine and players get a little too comfortable (i.e. Red Sox and Terry Francona). I don't see any reason to think that's happened with Girardi's team yet.
The Yankees have a very wide range of possible outcomes this year, and how they finish will inevitably impact the decision whether to retain Girardi. Everything could click and they would win 95+ games or everyone could break down and they could finish in fourth place. Girardi would clearly be retained — or at least offered the opportunity to stay — should the former happen, but I don't think the latter would automatically result in his dismissal. It depends why they finished in fourth, really. Did all the old guys who are injury risks get hurt, or did important players underperform? Only one of those can really be charged to the skipper, and even that isn't cut and dry.
The last time the Yankees needed a manager, they only interviewed three candidates: Girardi, Don Mattingly, and Tony Pena. Brian Cashman said afterwards they interviewed only those three because they were familiar with the Yankees and the market they play in, which is why no outside candidates were brought in. Outside of Pena, pitching coach Larry Rothschild (first manager in Devil Rays history), and I guess Mattingly (contract is up after this season), I don't know who else the team could bring in to meet that "familiar with New York" criteria. Then again, they could always change course.
Cashman and Hal Steinbrenner hand-picked Girardi for the job following the 2007 season, so I have a hard time thinking they'll replace him next winter for something less that an outright clubhouse mutiny. He's a fine manager — I don't think he's top five or even top ten, but clearly better than average in terms of on-field decisions — and has done a better job of handling the media over the years. Girardi could always choose to leave on his own for another job, but he didn't even let the Cubs make him an offer three years ago. If he didn't walk away for his hometown team, I can't imagine what it would take to lure him away. Girardi is already one of the two or three highest paid managers in the game, so that's not an issue.
Obviously the Cano, Hughes, and Granderson free agencies are much more important than the manager's, especially since their salaries will be impacted by the plan to get under the $189M luxury tax threshold next year. The skipper's salary is separate and, theoretically, not limited by any kind of payroll threshold. Maybe the Yankees won't want to pay their manager top dollar anymore — "I don't believe you need a top-five salaried manager to win," sure sounds like something Hal Steinbrenner would mutter these days — but I'll believe that when I see it. Barring something completely unexpected, Girardi seems like a safe bet to re-sign with the team this winter and lead them for another three years or so.