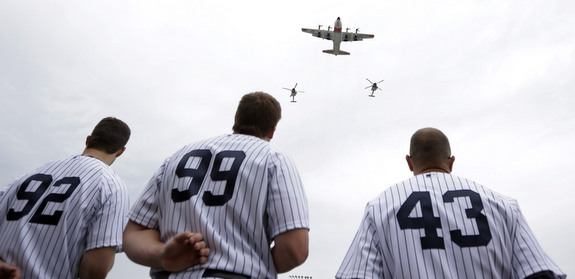 Pitchers and catchers reported to Tampa two weeks ago today, and during that time the Yankees have lost Phil Hughes to a bulging disk in his back and Curtis Granderson to a broken forearm. Hughes is working his way back slowly but could be back on a mound within a few days while Granderson will be sidelined until at least early-May. Considering that those two are among the youngest regulars on the projected roster, these last two weeks have certainly been disheartening. Here's a collection of random thoughts…
1. A few hours before Granderson got hurt on Sunday, I wrote a nice big post for Monday afternoon explaining why moving him to left field wasn't a slam dunk upgrade. It was absolutely worth trying of course, but factors like his inexperience — hasn't played left regularly since 2003 and remember, left is the infamous "sun field" at Yankee Stadium during day games — and the potential for his bat to suffer could take away from the defensive upgrade. The inexperience is a very real thing while possible offensive decline is more theoretical than anything, but it is something the Yankees would have had to monitor in camp. Confidence was another thing; being "demoted" to left in his walk year couldn't have been an easy thing for Curtis to take. Maybe he would have used that as motivation to kick ass and prove everyone wrong, but who knows. I think Granderson is likely to return as a center fielder when he's healthy because the Yankees will emphasize getting his bat is ready as soon as possible rather than saving a few runs on defense. We'll see.
2. My darkhorse/never-gonna-happen left field candidate? Corban Joseph. He can hit because he has an idea at the plate — his recent comments to Chad Jennings were encouraging — with some pop from the left side, but his defense has always been a question. Joseph isn't quick enough to play an average second base and he doesn't really have the arm for third, so a corner outfield spot might be his best long-term position. Baseball America said "he has taken fly balls in the outfield during pregame drills" in their 2013 Prospect Handbook, so at least he has a tiny bit of experience tracking a fly ball. Thirty-two Grapefruit League games wouldn't be enough to fully transition Joseph from the infield to the outfield — right field might be better since it's the smallest part of Yankee Stadium — but it's probably worth a shot. Like I said, however, it's never going to happen. Would be interesting to see though.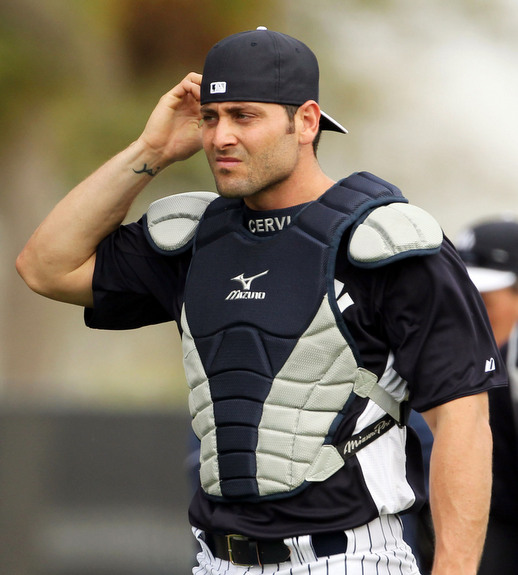 3. Since Chris Stewart and Frankie Cervelli are both out of options, an injury is pretty much the only way Austin Romine could make the team. That's not necessarily a bad thing, he could use the regular playing time in Triple-A, but I doubt the Yankees would put one of those guys on waivers and sacrifice depth at this point. One thing I will be keeping an eye on in camp is Cervelli's throwing, which was downright awful from 2010-2011 despite a very good minor league track record. Surely you remember all those errant throws into center field. Frankie threw a runner out at second trying to steal on Saturday and made a nice throw on a steal attempt yesterday even though the runner was safe. Cervelli told Jennings that he was "rushing" his throws and developed some bad habits from 2010-2011, but he corrected them last year and threw out 30% of attempted base-stealers in Triple-A. If he has in fact gotten over those bad habits and is able to contribute more defensively, he'd be the clear starter for me. None of these guys can hit much, but Cervelli is right in his prime years (27 next week) with a tolerable career .339 OBP. The lesser of two evils, I suppose.
4. By no means am I calling Ivan Nova a slacker, but I do think David Phelps has a bit of a leg up in the fifth starter's competition because he is so far ahead in camp. He had already thrown a few bullpens by the time pitchers and catchers reported, and he was the first projected big leaguer to a) face hitters, and b) actually get into a Grapefruit League game. Phelps told Jennings he "pushed (himself) a little more in the offseason … because (he's) trying to make an impression," which is exactly what he did last year. As you probably remember, Phelps opened some eyes in camp last spring by showing some serious competitiveness and more velocity than he had in the past, and it helped him win that final bullpen spot. Talent always reigns supreme, but the Yankees have emphasized makeup and work ethic in recent years in an effort to get as much as they can out of that talent. Phelps is making one hell of an impression.