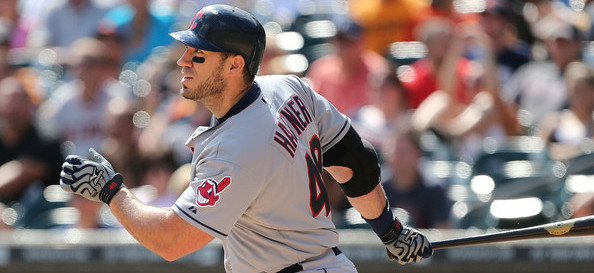 Saturday: The contract includes an additional $4M in incentives according to the AP. Hafner will earn $100k each for his 150th and 155th plate appearances, with six-figure payouts for every 15 plate appearances thereafter. He's going to rack up some big incentive bucks in a hurry if he stays healthy.
Friday: Spring Training opens in less than two weeks, and the Yankees finally have their new DH. New York has agreed to sign Travis Hafner to a one-year contract according to Jon Heyman. Ken Davidoff and Dan Barbarisi say the deal is worth $2M guaranteed with "reachable incentives." The contract is pending a physical, which is far from a slam dunk in this case. The Yankees will need to make a corresponding 40-man roster move once things are finalized.
Hafner, 35, picked the Yankees over the Rays according to Buster Olney. He's a career .278/.381/.507 (135 wRC+) hitter who had some monster seasons back in the day (167 wRC+ from 2004-2006). Hafner hit .267/.363/.447 (124 wRC+) overall and .278/.385/.470 (136 wRC+) against right-handers over the last three years. The one they call Pronk takes a lot of walks (12.7% since 2010) and his strikeout rate is a touch better than the league average (19.2 K%). He's not a dead pull hitter (2010-2012 spray chart) but he is most dangerous when he hooks the ball into right. The move into Yankee Stadium should boost his numbers plenty.
Injuries have been a big problem for Hafner the last few years, which is why the physical is not given. He had right shoulder surgery (debridement) in October 2008 and right knee surgery (meniscus) this past May. Shoulder inflammation (2010), an oblique strain (2011), a foot strain (2011), and a bulging disc in his lower back (2012) are also in the not-too-distant past. Hafner has played in 95+ games just once in the last five years (2010). Staying on the field has definitely been an issue and will be a concern in 2013.
Hafner has not played the field regularly since 2003 or at all since 2007, so he's strictly a DH. It's not ideal, but the options are limited at this point. He's also a big lumbering dude (listed at 6-foot-3 and 240 lbs.) who offers no speed whatsoever. We're talking never gonna take the extra base, will need three singles to score from first, Molina-esque speed. Mark Teixeira will look like Brett Gardner by comparison. Okay, maybe he's not that slow, but you get the point. Hafner's career-low .233 BABIP lat year can be blamed on a sky-high 10.1% infield fly ball rate, but otherwise his batted ball profile was unchanged.
The Yankees signed Dan Johnson to a minor league contract last week, so he's likely ticketed for Triple-A Scranton now. Hafner's lack of durability means Johnson will probably get a shot at some point, however. Bench help and general pitching depth are the last remaining items on the offseason agenda since it's now obvious a new starting catcher just isn't happening. Matt Diaz (minor league deal), Russ Canzler (waivers), and Juan Rivera (minor league deal) will compete for the right-handed bench bat role while Jayson Nix and Eduardo Nunez are the favorites for the backup infielder spot.