Our season preview series wraps up this week with a look at the bullpen, the bench, and miscellaneous leftovers. Opening Day is one week from today.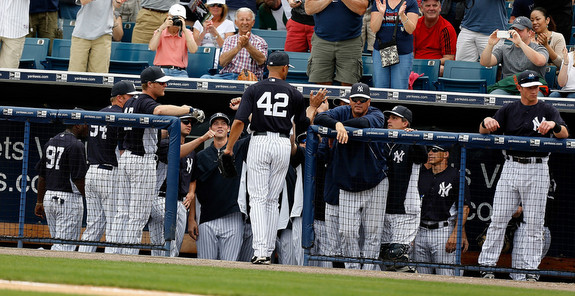 At this time last year, we all had a sneaking suspicion Mariano Rivera was about the begin the final season of his Hall of Fame career. He played coy all through Spring Training and never did announce his true intentions before a fluke knee injury ended his season in early-May. It wasn't until this winter we learned he likely would have retired had he gotten healthy in time for postseason, and it wasn't until a few weeks ago we learned he was definitely planning to retire following the 2012 campaign before the knee injury changed things.
We found that out 16 days ago, when Rivera held a press conference to officially announce his intention to retire after the upcoming 2013 season. "It's official now. After this year I will be retired … I have to give everything and the tank is almost empty. The little gas that I have left is everything for this year. After this year I am empty," said the closer, when he made it pretty clear he would not be changing his mind and returning for 2014. This is it, the Summer of Mo.
* * *
Last summer, the Yankees overcame the loss of Rivera thanks to Rafael Soriano, who stepped in and went 42-for-46 in save chances as the fill-in closer. His 2.26 ERA (3.31 FIP) with 57 strikeouts and 16 walks in 57 appearances and 55.2 innings weren't just adequate, he was arguably the best closer in the league. That said, Soriano is no Rivera. Mo hasn't posted a FIP that high since 1998 or a K/BB that low (3.56) since 2004. By bWAR (2.6) and fWAR (1.2), Soriano just had the 13th and 16th best seasons of Rivera's career, respectively. He's just on another level.
The safety net is gone this season, at least in theory. David Aardsma has closed in the past and David Robertson could probably do the job without a problem, but neither is as accomplished as Soriano. That makes the now 43-year-old Rivera that much more important, which is a little scary because he is coming off the major knee injury. It wasn't until a week or two into camp that he first felt 100%, but any lingering effects from the knee haven't shown up in his Grapefruit League performance: no runs with seven strikeouts and one walk in five innings.
As far as his expected performance … does anyone expect anything other than vintage Mo? The rational part of my brain says a 43-year-old coming off a major injury and what amounts to an 11-month layoff should see his performance suffer, or at least need a few weeks to shake off the rust. Every other part of me expects those same cutters on the corners. Seriously, look at Rivera's called pitch strike zone over the last three years (courtesy of Texas Leaguers)…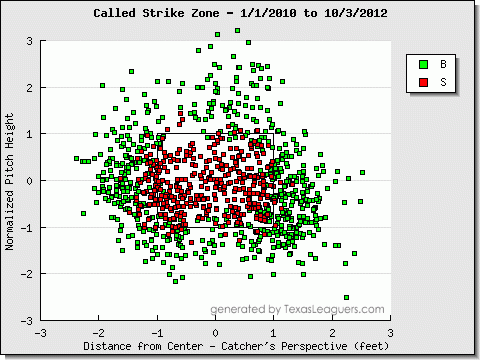 That's three years worth of called balls and strikes. Look at how many pitches are on the corners compared to how many are over the middle of the plate. It's ridiculous. He's not human. He's a robot. A strike-throwing cutter machine.
I honestly don't know what Rivera will do this summer. He's earned every benefit of the doubt despite the knee injury — remember, this is a guy who had shoulder surgery in October 2008 and pitched to a 1.76 ERA (2.89 FIP) in 66.1 innings in 2009 — and if he struggles, then he struggles. They'll deal with it when the time comes. I expect Mo to have his typical one bad week in April and one bad week in August, and otherwise dominate the league like few others.
* * *
The Summer of Mo won't just be about on-field performance, though. Rivera is expected to enjoy a Chipper Jones-esque farewell tour, receiving gifts and recognition from other clubs as he plays his final series in other AL cities. Despite all the great players to come through the Bronx in recent years, the farewell tour will be like nothing we've seen before. As bittersweet as the impending retirement is, it will be fun to watch Rivera get celebrated time and time again this summer.
This is the beginning of the end of an era for the Yankees. We're never going to see a player like Mariano again, someone who is so brutally effective on the field while carrying himself with such class and dignity off it. It's lazy and cliche, but Rivera truly is someone we'll all sit around and tell the grandkids about when the time comes. He's an all-time great and an icon as a person, a player, and a Yankee. It's been a privilege and on honor to watch him these last 18 years.