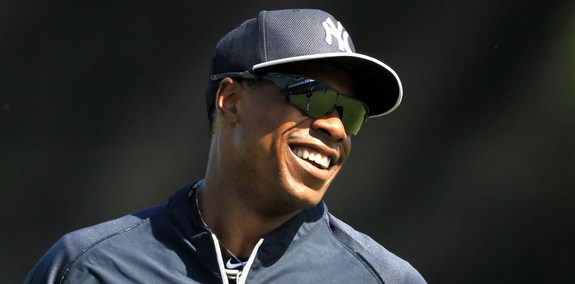 Had things gone according to plan, Brett Gardner would have been manning center field all year rather than during the first four of five weeks of the season. Curtis Granderson's fractured forearm put an end to the position switch experiment before it really even had a chance to start, as Joe Girardi confirmed Granderson will return to his usual center field spot when healthy. Given how much offense the Yankees have lost to free agent defections and injury, getting their top homer hitter back in the lineup as soon as possible will be the priority, not the position switch.
The Starter
It will be Gardner for the first few weeks of the season, but he'll slide back to use usual spot in left as soon as Granderson is healthy. The soon-to-be 32-year-old is coming off a .232/.319/.492 (116 wRC+) line with a team-best 43 homers in 2012, though his season can be split into two halves: .248/.352/.502 (130 wRC+) with 23 homers and a 25.9% strikeout rate in the first half, then .212/.278/.480 (98 wRC+) with 20 homers and a 31.8% strikeout rate in the second half. His miserable postseason showing — 3-for-30 with 16 strikeouts — was the icing on the cake.
The root cause of Granderson's second half slide is so unclear the Yankees sent him to an eye doctor after the season. Tests came back showing unusual. His first/second half BABIP split (.282/.233) was propped up by an increase in fly balls (38.3%/51.1%), though pitchers did throw him fewer fastballs (57.2%/53.7%). Not a ridiculous amount though. Whatever happened in the second half, I can't really explain it. Could be something obvious I'm not seeing or it could be something completely under-the-radar. I'm guessing the latter. Whether it's correctable is something we won't know until he actually gets back on the field.
Regardless of why the second half slump happened, the Yankees need Granderson's power and that's something he provided even when struggling. He hits homers at home (56 since revamping his swing in August 2010), on the road (41), against righties (64), against lefties (33), with men on-base (42), with the bases empty (55) … pretty much all the time. Granderson is one of the few batters who bats with a man in scoring position all the time — even when the bases are empty — because his ability to go deep at any moment is a game-changer. The Yankees have been known for that kind of offense basically forever, but this season will be different and that makes the Grandyman that much more important.
In addition to all of that, this is Granderson's walk year. He'll become a free agent after the season for the first the in his career, and his power production will get him paid regardless. Whether he has a big year like 2011 (145 wRC+) or just a merely above-average year like 2012 (116 wRC+) will determine if he gets Michael Cuddyer money (three years, $31M) or Nick Swisher money (four years, $56M). The Bombers could sure use a nice big contract push from their center fielder, but more importantly, they just need to get him back in the lineup as soon as possible.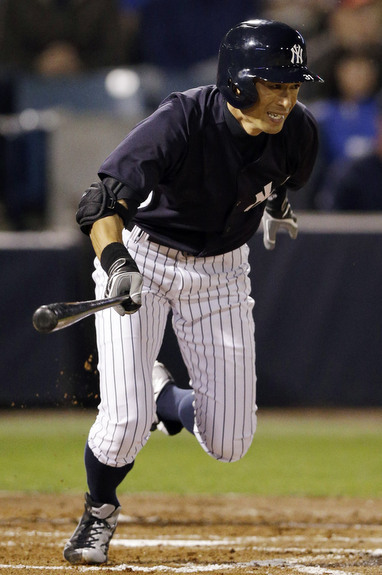 The Backup
Technically it is Gardner even though he'll open the year playing center everyday. The Yankees showed last season they're willing to play Ichiro Suzuki in center on occasion, so he's a backup option as well. There's also Melky Mesa, who could open the season with the big league club and is another legitimate center field candidate. Despite losing Granderson, the Bombers have no shortage of capable center fielders at the Major League level.
Knocking on the Door
Before Granderson's injury, it was likely Mesa was going to open the season as the everyday center fielder with Triple-A Scranton. He is third on the center field depth chart — I do the Yankees would play Melky2.0 out there everyday before Ichiro Suzuki if both Granderson and Gardner got hurt — and is sorta like a poor man's version of a right-handed Granderson offensively. Mesa has power and speed and contact issues, but he's a much better defender with a very strong arm. If he doesn't make the team out of Spring Training as Granderson's replacement, Melky will wait in Triple-A and assuredly resurface in the Bronx at some point this simmer.
The Top Prospect
You can make a very strong case that New York's two best prospects are both center fielders. Mason Williams and Slade Heathcott ranked second and fourth on my preseason top 30 prospects list, respectively, but not many would argue if I had them one-two in either order. Williams, 21, hit .298/.346/.474 (~125 wRC+) in 397 plate appearances split between Low-A Charleston and High-A Tampa last season before needing season-ending left shoulder surgery — he hurt himself while diving for a ball in the outfield — in late-July. He's a ballhawk in center with big-time speed and range, though his arm is just okay and his routines need to be refined. Williams signed for $1.45M as the Yankees' fourth rounder in 2010, but he needs to work on a number of things. The raw tools are as impressive as they come though. He'll open the season back at High-A Tampa and will hopefully stay healthy and get a ton of at-bats as the leadoff man.
Heathcott, meanwhile, returned from his second left shoulder surgery at midseason to hit .307/.378/.470 (142 wRC+) in 265 plate appearances with High-A Tampa in 2012 before catching some extra at-bats in the Arizona Fall League. The 22-year-old has the best all-around package of tools in the organization, with power and patience from the left side of the plate to go with high-end speed and defense in center. Heathcott can over-swing at times and struggle to make contact, but that should work itself out with more experience. Health is an issue though, in part because he plays all-out all the time and hurts himself by diving for balls and running into walls. Slade has yet to play in more than 76 regular season games since signing for $2.2M as the team's first round pick in 2009, so staying on the field all year will be priority number one this season. He'll open the year at Double-A Trenton and since he's due to be added to the 40-man roster following the season (to avoid exposure to the Rule 5 Draft), there's a chance we'll see him as a September call-up.
The Deep Sleeper
Could it be Ravel Santana at this point? The 20-year-old had a miserable season with Short Season Staten Island last summer — .216/.304/.289 (84 wRC+) with three homers and 27.5% strikeouts in 247 plate appearances — after coming back from the devastating ankle injury that ended his 2011 campaign prematurely. Two years ago he was a budding star after dominating the rookie level Gulf Coast League affiliate, but the injury sapped some athleticism and cost him balance at the plate. If he regains his previous form as he matures and gets further away from surgery, Santana is likely to join the ranks of Williams and Heathcott. If not, he'll be a non-prospect. I ranked him 28th on my preseason top 30 list and he'll join Low-A Charleston this year. It's a weird situation, but there is some breakout potential here.
* * *
Even though Granderson is going to miss the start of the season, the Yankees are in good shape regarding the center field position. Gardner is a more than capable replacement — both short- and long-term — and Ichiro can fill-in no problem if needed. New York will also have legitimate prospects playing center in Triple-A (Mesa), Double-A (Heathcott), High-A (Williams), and Low-A (Santana). That's exciting. Once Curtis is healthy, center field will join second base as the deepest positions in the organization.
Other Previews: Catchers, First Basemen, Second Basemen, Shortstops, Third Basemen, Left Fielders