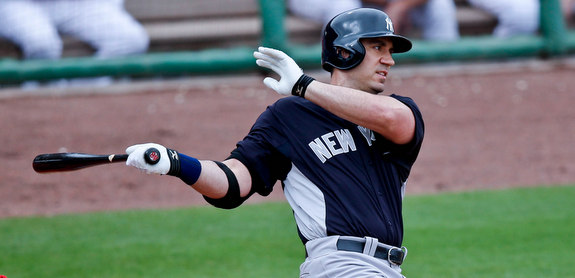 The Yankees will open 2013 with their fifth different primary DH in the last five seasons, and that is completely by design. Hideki Matsui's knees relegated him to almost exclusive DH duty in 2008 and 2009, creating roster and lineup inflexibility. The team dealt with a similar issue in 2010 with Jorge Posada.
Otherwise, New York has tried to use that DH spot as a revolving door, which is a trend spreading throughout the league. Rather than have one set everyday DH, they've picked up a low-cost left-handed hitter to platoon with their older players at the position. Brett Gardner's injury forced Raul Ibanez — who was signed to be that low-cost left-handed half of the DH platoon — in the outfield more than expected last season, which is why ten different players started games at DH last year. Only one (Alex Rodriguez) started more than 25 games there.
The Starter(s)
This summer's low-cost left-handed DH is long-time Cleveland Indian Travis Hafner, who signed a one-year contract with a $2M base salary in early-February. The 35-year-old hit .228/.346/.438 (118 wRC+) with 12 homers in 263 plate appearances last season, including .241/.361/.437 (123 wRC+) against righties. Over the last three seasons, Pronk has hit .267/.363/.447 (124 wRC+) overall and .278/.385/.470 (136 wRC+) against right-handers, which is exactly what the Yankees want him to do in 2013. It's a very simple job, just hit right-handers and take advantage of the short porch.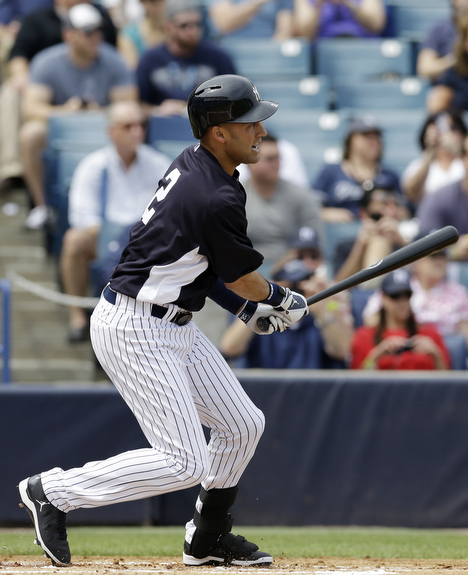 The Yankees have already admitted their plan to use Derek Jeter as their full-time DH against left-handers, at least early in the season. The move has more to do with getting him off his feet following late-October ankle surgery than his ability to mash southpaws — .364/.399/.542 (157 wRC+) in 2012 and .344/.403/.515 (150 wRC+) since 2010 — which is completely understandable. Jeter, 38, could use the regular rest following surgery even if serving as the DH is only a half-day off, so to speak. That will presumably force Eduardo Nunez into the field as shortstop on a fairly regular basis.
There are two concerns with a Hafner-led DH platoon. One, he doesn't play a position at all. He hasn't played first base regularly since 2005 or at all since 2007, so unlike Ibanez last year, he won't be able to fill-in anywhere in case of injury. That's already a problem in the wake of Mark Teixeira's wrist injury. Second, Hafner himself is an injury risk. He had right shoulder surgery in October 2008 and has been on the DL six times in the four years since, including two times in both 2011 and 2012. Ailments have ranged from shoulder soreness to an oblique strain to knee surgery to a bulging disk in his back. Hafner is a very important part of the lineup early in the season with Teixeira and Curtis Granderson hurt, but he's unlikely to make it through the entire season unscathed himself.
The Backup
No team carries a backup DH. The position doesn't exist. If and when Hafner gets hurt, the Yankees will do what they did last year. They'll rotate players in and out of the position to rest them, with a bench player like Nunez or the right-handed hitting outfielder to be named later seeing more playing time in the field. Jeter, Teixeira, Granderson, A-Rod, Kevin Youkilis, Robinson Cano … all of them would see time at DH should anything happen to Hafner.
Knocking on the Door
Again, no team stashes a backup DH in the minors. The obvious answer for the Yankees here would be first baseman Dan Johnson, who looks poised to open the season as Teixeira's temporary replacement. Outfielders Thomas Neal and Zoilo Almonte, first baseman Luke Murton, and infielders Corban Joseph and David Adams could all be called up if Hafner goes down and see playing time in some capacity. DH depth isn't clearly defined like it is for other positions, it won't be one set guy to come off the bench or up from Triple-A if the DH spot becomes suddenly vacant.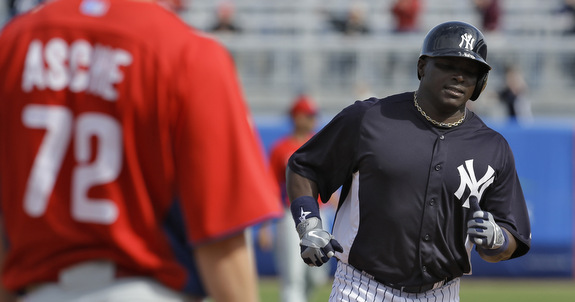 The Top Prospect
I didn't rank a single DH prospect in my preseason top 30 list because DH prospects don't exist. The closest we've seen to one is Jesus Montero, who is being given every opportunity to catch in the big leagues. It's the ultimate last resort position. I guess Ronnie Mustelier could be considered the team's top DH prospect given his good bat and poor defense, but he won't be moving there anytime soon. Below-average defense is better than zero defense in some instances, especially since most hitters see their offensive production decline when serving as the DH. It's not an easy thing to do, sitting around between at-bats.
The Deep Sleeper
The Yankees don't have a true DH prospect at all, nevermind in the lower minors. If someone is stuck playing DH semi-regularly in a short season league, they ain't no prospect. I'll take Yeicok Calderon, who I mentioned yesterday in the right field write-up. He can hit a little but stinks defensively, so maybe he winds up a DH down the line. Otherwise, nothing to see here.
* * *
The Yankees will rely on Hafner and Jeter at DH this year, especially early in the season. Others like Youkilis and Cano will see some time at the position as well, just to get a day away from the field, and guys like Almonte and Mustelier provide some depth in Triple-A. Hafner is very important to the Yankees though, especially while Teixeira and Granderson are out. It's not at all a stretch to call him their second best offensive player at the moment.
Other Previews: Catchers, First Basemen, Second Basemen, Shortstops, Third Basemen, Left Fielders, Center Fielders, Right Fielders