Our season preview series continues this week with the starting rotation, though the format will change just slightly. Since there's no clear starter/backup/depth lineage when it comes to starting pitchers, we'll instead look at each type of pitcher — ace, number two, back-end, etc. — at different levels.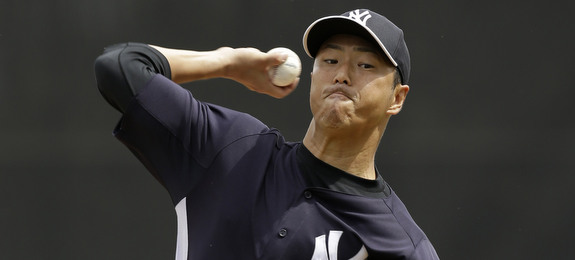 Number two starters don't garner the attention of aces nor generate the same kind of rosterbation as back-end guys, but they're obviously very important to a team's success. The Yankees are lucky to have two pitchers who would qualify as a number two in most rotations, though the club figures to slot in a right-hander behind CC Sabathia to break up the lefties.
#HIROK
It's funny to look back and remember that at this time last year, Hiroki Kuroda was considered a question mark. He was an older pitcher moving from a big park in the NL to a small park in the AL, and that is usually the recipe for a disaster. Instead, the 38-year-old right-hander was the team's most consistently excellent starter from Opening Day through the postseason, pitching to a 3.32 ERA (3.86 FIP) in a career-high 219.2 innings. Kuroda liked his time in New York so much that he turned down more lucrative offers from other clubs this winter to take a one-year deal worth $15M from the Yankees.
Despite that performance, the combination of age and career-high workload — 236.2 innings between the regular season and postseason — make Kuroda a bit of a question mark going into the season. He battled fatigue last September, so much so that he had to stop throwing his regular between-starts bullpen to stay fresh. Kuroda modified his offseason routine in an effort to stay fresher later into the season, but it remains to be seen how much good that will actually do. Heck, it might even do bad for all we know.
One thing we do know is Kuroda is tough as nails — this story is still mind-blowing — and incredibly savvy on the mound. He battles every time out and his dud starts have nothing to do with a lack of effort of preparation. I do wonder how being away from Russell Martin will impact Kuroda — his worst full season in terms of ground ball and homer rate came the year Martin didn't catch him, which could just be a coincidence but is obviously something no one wants to repeat — given all the time the two worked together both last year and with the Dodgers. There will have to be some adjustments there on both the pitcher's and catcher's part, hopefully a seamless one.
As was the case last summer, the Yankees are going to rely on Kuroda as their number two starter behind Sabathia and will expect the same kind of reliable, consistent performances. He's a year older with a few more miles on the arm, but he's not carrying those NL-to-AL, big park-to-small park transition questions. Frankly I think the transition stuff is a greater concern than age, but that's just me. Kuroda's smarts and deep arsenal make me feel really good about his chances to repeat last season's success.
Knocking on the Door
Just like with the ace-caliber guys yesterday, the Yankees won't have a projected future number two starter in Triple-A this summer. Left-hander Manny Banuelos would have been that guy had he not blown out his elbow and needed Tommy John surgery, but he won't be a factor until 2014 at the earliest. Then again, durability is one of the things keeping from that frontline starter ceiling. I guess that means if he was healthy, Banuelos wouldn't have projected as a number two, but instead something more. Anyway, the Yankees definitely have some future number twos in the system, but none of them are in the upper minors. Bummer.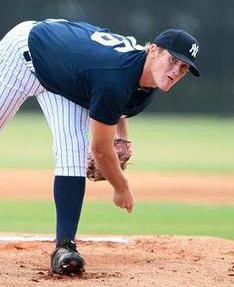 The Top Prospect
New York's top number two starter prospect outside of the injured Banuelos is last summer's first rounder, righty Ty Hensley. He ranked eighth on my preseason top 30 prospects list. The 19-year-old from Oklahoma has a dominant fastball-curveball mix and the size — listed at 6-foor-4 and 220 lbs. — that suggests future durability, but he lacks command and a third pitch. He needs the latter more than the former to reach his ceiling, both figuring out both in the next few seasons would give him true ace potential. For now he's someone you close your eyes and see a future number two starter without having to try real hard.
The Deep Sleeper
I'm a big fan of right-hander Gio Gallegos, who didn't crack my preseason top 30 but did make the not top 30 list as a prospect who could jump into next year's top 30. His top atrribute is his command and control of a solid fastball-curveball mix, but he needs to work on his third pitch and show he can hold up while starting every five days across a full season. I might be stretching a bit with the "future number two starter" stuff here, but like I said, I'm a big fan of Gallegos. Forgive me for being a little extra optimistic.
* * *
Kuroda is among the best number two starters in the game, a proven veteran with a great package of stuff, savvy, and command. His importance to the Yankees is easy to understate given the bigger names on the roster, but the club needs him to be as strong and reliable as he was a year ago. It's imperative thanks to the depleted offense. The minor league system offers a few prospects who project as number two type starters down the road, but none at the upper levels of the minors or capable of making an immediate impact.