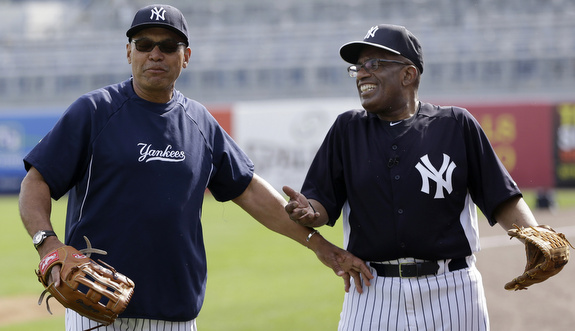 The Yankees shutout the Cardinals this afternoon, with Hiroki Kuroda looking very sharp across four scoreless (and walkless) innings. He struck out six. David Robertson returned to game action with a scoreless inning, and afterwards he told Erik Boland his shoulder "felt great." That's pretty much the only real newsworthy item from the game.
Kevin Youkilis started the scoring with the solo homer and then a sacrifice fly, then Zoilo Almonte and Matt Diaz plated runs with a bases loaded walk and hit-by-pitch, respectively. Ichiro Suzuki doubled while Brett Gardner, Corban Joseph (two), and Chris Stewart all singled. Solid game all around. Here's the box score and here's the latest from Tampa…
No surprise here, but the three-man catching competition is officially over: the Yankees announced Austin Romine was sent to minor league camp. It'll be Stewart and Frankie Cervelli come Opening Day. RHP Dellin Betances, RHP Brett Marshall, LHP Manny Banuelos, LHP Francisco Rondon, LHP Nik Turley, RHP Jose Ramirez, RHP Chase Whitley, OF Ramon Flores, 1B Luke Murton, and C J.R. Murphy were also cut. The Yankees still have 54 players in big league camp by my unofficial count.
Phil Hughes (bulging disk) threw a 26-pitch bullpen session this morning and said it felt "just like a normal bullpen." He will throw live batting practice on Thursday, but it is still unclear if he'll be ready for the start of the regular season.  [Jayson Stark & Jack Curry]
David Aardsma (groin) threw another bullpen session today and everything is fine. Have to think he'll return to game action relatively soon. Boone Logan (elbow) is scheduled to throw in the bullpen tomorrow. [Andy McCullough & Chad Jennings]
Infielders Gil Velazquez and Walt Ibarra returned to camp now that Mexico has been eliminated from the World Baseball Classic. Robinson Cano won't be back anytime soon — the Dominican Republic advanced to the second round, which begins tomorrow. [George King]
The Yankees will travel 100 miles south tomorrow afternoon to play the Rays in Port Charlotte. Ivan Nova gets the start and Cervelli, Travis Hafner, Dan Johnson, Eduardo Nunez, Jayson Nix, and Juan Rivera are the projected big leaguers making the trip. That game will not be broadcast on television.
Here is your open thread for the evening. The Knicks and Nets are both playing tonight, plus MLB Network will air a Spring Training game later tonight. You folks know how these things work by now, so have at it.