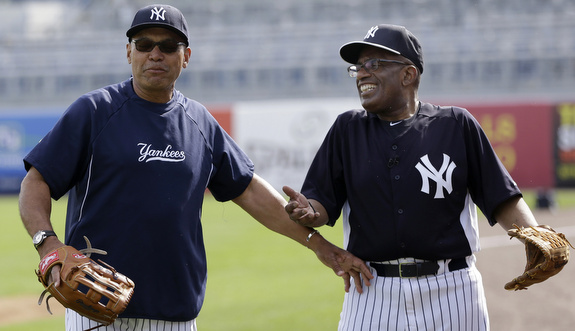 The Yankees shutout the Cardinals this afternoon, with Hiroki Kuroda looking very sharp across four scoreless (and walkless) innings. He struck out six. David Robertson returned to game action with a scoreless inning, and afterwards he told Erik Boland his shoulder "felt great." That's pretty much the only real newsworthy item from the game.
Kevin Youkilis started the scoring with the solo homer and then a sacrifice fly, then Zoilo Almonte and Matt Diaz plated runs with a bases loaded walk and hit-by-pitch, respectively. Ichiro Suzuki doubled while Brett Gardner, Corban Joseph (two), and Chris Stewart all singled. Solid game all around. Here's the box score and here's the latest from Tampa…
Here is your open thread for the evening. The Knicks and Nets are both playing tonight, plus MLB Network will air a Spring Training game later tonight. You folks know how these things work by now, so have at it.