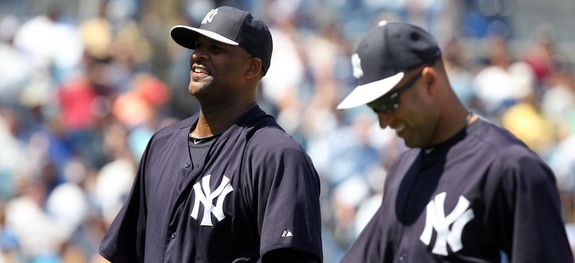 The Yankees beat the Marlins this afternoon, rebounding nicely from yesterday's shellacking at the hands of the Blue Jays. CC Sabathia allowed two runs on eight hits in five innings, his first real game action of Spring Training. By all account his surgically repaired elbow held up just fine and he will make another start in a few days. That's the big story of the day, obviously.
Derek Jeter singled and played shortstop again, and his surgically repaired ankle is doing a-okay. Also good news. Travis Hafner and Frankie Cervelli both launched homers, the first of the Grapefruit League season for both. Joba Chamberlain and David Robertson both threw an inning, with Roberson allowing the runner he inherited from Joba to score. Jose Pirela went 2-for-3 off the bench with two triples, so that's cool. Here's the box score and here's the rest from Tampa…
Ronnie Mustelier crashed into the railing around the camera well in this afternoon's game, and he has "multiple contusions to both legs" and will be reevaluated again tomorrow. He's not going for x-rays but will take tomorrow off and target a return to the lineup on Tuesday following Monday's off-day. [Dan Barbarisi]
Slade Heathcott has patellar tendinitis — that's a knee issue unrelated to the thumb problem he dealt with a week or two ago — and there is no word on when he might return to the field. Sigh. [Chad Jennings]
Michael Pineda (shoulder) and Cesar Cabral (elbow) threw another round of 35-pitch bullpen sessions this morning, including sliders and changeups. So far, so good. [Jennings]
Boone Logan (elbow) will throw live batting practice tomorrow. He's been sidelined by a nagging elbow issue in camp and has yet to appear in a Grapefruit League game. [George King]
Tyler Austin and Mark Montgomery were named the 2012 Kevin Lawn Player and Pitcher of the Year, the team announced. It's a minor league thing, obviously. Past winners include Eduardo Nunez, Austin Romine, Austin Jackson, David Phelps, Phil Coke, and Ian Kennedy.
The Yankees are playing a pair of split squad games tomorrow. Hiroki Kuroda & Co. will face Phillies at home while David Phelps heads to Disney to face the Braves along with Cervelli, Jayson Nix, Nunez, Matt Diaz, Ben Francisco, and Melky Mesa. The home game will be on YES and MLB.tv (12pm ET), the road game on MLB.tv only (5pm ET).
Here is your open thread for the evening. The big game of the night is USA-Puerto Rico in the World Baseball Classic (7pm ET on MLB Network), an elimination game where the loser goes home and the winner goes to the semifinals in San Francisco. Ryan Vogelsong and former Yankees farmhand Nelson Figueroa is your pitching matchup. The Devils are also playing, but talk about whatever you like here. Enjoy.