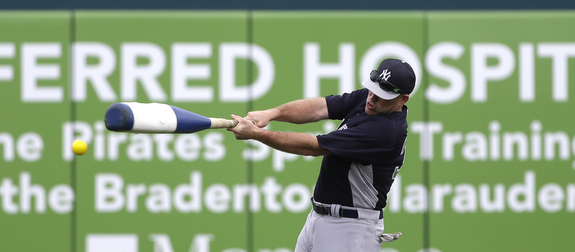 The Yankees knocked the Braves Pirates around this afternoon, with Melky Mesa delivering a grand slam for the big blow. Eduardo Nunez, Kevin Youkilis, and Brennan Boesch all had two hits as well, including a double and a homer from Youkilis. Ivan Nova allowed four runs in five innings, easily his worst outing of the spring. He and David Phelps remain neck-and-neck in the fifth starter's race, at least in theory. That competition could have been rigged from the start. David Robertson tossed a scoreless inning out of the bullpen. Here's the box score and here's the rest from Tampa…
Boone Logan (elbow) threw a simulated game yesterday and said he still feels something in his elbow, but it's not pain. Just some inflammation that doesn't bother him while pitching. He hopes to pitch in a game next, but another simulated game could be on the docket first. [Chad Jennings]
Clay Rapada, meanwhile, is still shut down with shoulder tendinitis and there is no timetable for him to get back into a game. He might not be ready in time for the start of the season, and the same goes for Logan at this point as well. [Jennings]
OF Slade Heathcott has been reassigned to minor league camp, meaning the Yankees are unofficially down to 52 players in big league camp. Matt Diaz was released earlier today. Heathcott is dealing with patellar tendinitis and there's no word on when he might return to the field. [Jennings]
The Yankees are off on Monday and it sounds like it will be a full day off. No scheduled workouts other than Phil Hughes' simulated game and miscellaneous bullpens for rehabbing players, stuff like that. Adam Warren will start against the Phillies in Clearwater on Tuesday afternoon, a game that will be broadcast on ESPN and MLB.tv but not YES.
Here is your open thread for the evening. The Nets are playing and Puerto Rico and Japan are meeting in a World Baseball Classic Semifinals game (9pm ET on MLB Network). The winner of that game advances to Tuesday's championship game against the winner of Monday's Dominican Republic-Netherlands game. Talk about any of that and more right here. Enjoy.