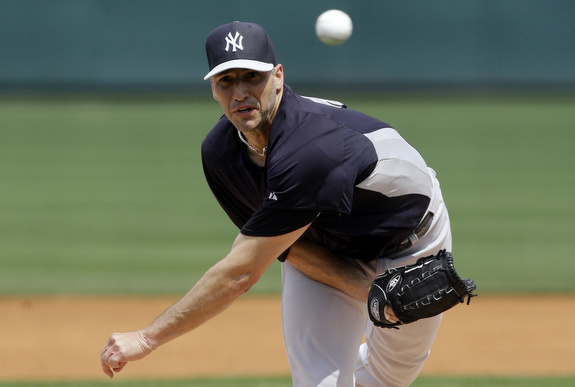 The Yankees lost to the Tigers this afternoon despite leading by three runs at one point. Andy Pettitte allowed four runs in 6.1 innings of work, so he's pretty much stretched out for the season. Just one more tune-up start to go. Cody Eppley faced five batters and allowed five hits, which is … uh … not good. Shawn Kelley allowed a run in an inning and a third.
Ben Francisco was the big star of the day, hitting not one but two homers. They both came off righties — Anibal Sanchez and Bruce Rondon — even though the team is looking at him as a lefty masher. Juan Rivera had three hits including a double while Brett Gardner, Eduardo Nunez (two), Ichiro Suzuki, and Chris Stewart all singled. Kevin Youkilis and Jayson Nix doubled. Here's the box score and here's the rest from Tampa…
Brennan Boesch (stiff left ribcage) was checked out by the doctors today and he will not play this weekend. The Yankees are off on Monday and the plan is to get him back in a game Tuesday or Wednesday. [Andy McCullough & Bryan Hoch]
Joe Girardi said he doesn't expect to make any final roster decisions until the exhibition game against Army at West Point next Saturday. Fifth starter, first base, left field, bench, and Clay Rapada's vacant bullpen spot are all up for grabs. [Chad Jennings]
David Adams played in his first minor league game of the year this afternoon. He had been battling a back injury that required an epidural and kept him out of big league Spring Training. [Josh Norris]
Jose Campos pitched in a minor league game this afternoon and was sitting 89-91 mph with the fastball in the first inning. He missed basically all of last year with an elbow problem, so it's good to hear he's back on the mound. [Norris]
The Yankees released a handful of minor leaguer pitchers today: righties Cory Arbiso, Pedro Guerra, Will Oliver, Matt Richardson and lefty Matt Bashore. Arbiso was the best of the bunch. [Norris]
Adam Warren will start against the Rays when they come to Tampa tomorrow. That game will be on YES and MLB.tv (no local blackout).
Here is your open thread for the evening. The Devils, Knicks, and Nets are all playing, plus MLB Network will air a Spring Training game later tonight. Sounds like most people will get the Pirates and Red Sox. Talk about any of that stuff and more right here. Enjoy.