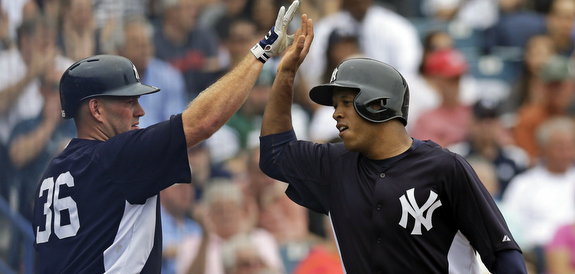 The Yankees walked off with a win over the Rays this afternoon thanks to a Ronnie Mustelier solo homer in the tenth inning. Kevin Youkilis hit not one, but two homers while Travis Hafner went deep once. Eduardo Nunez had a pair of knocks, including a triple. The Yankees struck out just once as a team (Youkilis) while drawing four walks.
As has been the case for most of camp, the team's defense was laughable. They were only charged with one error, but Youkilis booted two balls and short-hopped a throw to first base. There was also a poorly timed dive in the outfield (Ben Francisco). The defensive miscues contributed to the five runs (one earned) allowed by Adam Warren in 3.2 innings. Vidal Nuno, who is competing for a bullpen spot in the wake of Clay Rapada's injury, allowed all three men he faced to reach base (walk and two singles). Two of the three were lefties. David Aardsma allowed a run in an inning for work, blowing the save in the ninth. Mariano Rivera allowed two singles in a scoreless inning. Here's the box score and here's the rest from Tampa…
The Yankees will give Robinson Cano a few days off just to recharge his batteries, so to speak. He's healthy, but he played (and traveled) a whole bunch during the World Baseball Classic, so he'll get a few days of rest. [Jon Heyman]
Slade Heathcott ran the bases for a second straight day on Sunday. He's been dealing with patellar tendinitis — in English: an achy knee — and there was no timetable for his return at the time of the injury. So yeah, good news. [Josh Norris & Donnie Collins]
Infielders Addison Maruszak, Jose Pirela, and Walt Ibarra was all reassigned to minor league camp. I didn't even realize they were still with the big league team. The Yankees are down to 43 players in camp, unofficially. [Chad Jennings]
Here's your open thread for the night. The Rangers, Islanders, and Nets are all playing, plus MLB Network will air a Spring Training game as well. Looks like Orioles-Pirates for most viewers. You folks know how these things work by now, so have at it.